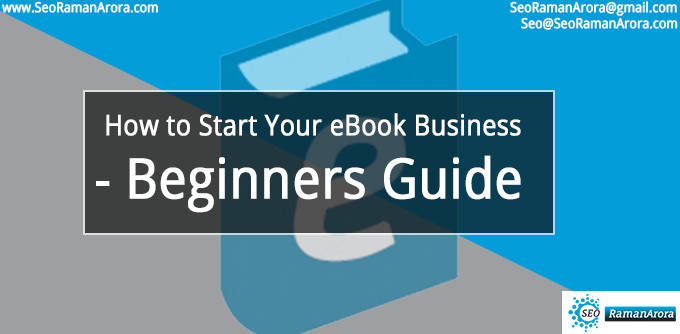 How to Start Your eBook Business – Beginners Guide

Do you want to start your eBook Business? Check out easy beginner's guide to learn How to start your eBook Business in this post.

The ebook is an electronic version of printed book which is available on the internet in digital format. You can easily access an eBook directly from your computer or mobile.

Nowadays, eBook has gained so much popularity because most of the people prefer to read eBooks instead of printed books. The reason of popularity of eBook is that people find it convenient to download and access a book rather that going to a shop to buy a specific book. Also, an eBook is accessible on mobile phones. So, people don't have to carry a book with them.

However, there are many people who have started their eBook business to make money. They sell their eBooks online to make money. If you like to write you can also Start Your eBook Business.

Besides, whether you are a blogger, writer or any individual you can start your eBook Business. It is very easy.

If you have a blog or website, you can also sell your eBooks on your blog. But, if you don't have any blog/website still you can also start your eBook business by selling your eBooks on other famous sites that sell eBooks. There are many websites such as Payhip, Selz, Fiverr, Amazon, Blurb and much more which allows selling eBook on their portal.

So, you can also sell your eBook on such sites and start making money.

Are you curious to learn How to Start Your eBooks Business?

Don't worry. Today, I am going to provide you an easy beginner's guide to start Your eBooks Business.

Let's start.
Start Your eBook Business- Beginners Guide
There a just few steps in order to start your eBook business which is as follows:
Just find out a specific niche to start writing your eBook. Try to choose a niche which is popular on the web. Also, determine your customers' needs to deliver them the best information through your eBook.
Once you find your niche, start writing your eBook. Make sure it meets the needs of your customers. So, people can worth reading it.
Once your complete your book, format your eBook. You have to make sure that the content is easily readable and understandable to readers. Also, set the size of eBook at least 7 inches tall and 5 inches wide. Make your content concise and crisp.  It should deliver the best information to your readers.
Once you write the content, you have to convert your doc file to PDF. So, Choose a PDF Creator to convert your file in PDF format.
It is very important to secure your book from unauthorized access or theft. So, make sure you get the digital rights before publishing your eBook. If you will publish your eBook free of cost on the web, it will have a negative impact on your business. Also, you will not get any profit from your eBook.
Create a website to Sell your eBooks
Now you need to create a webpage to sell your eBook. You can also start a blog where you can sell your eBook. Just make sure you write all the details, features and benefits of your eBook in the description. Also, focus on highlighting needs of your customers to influence them and buy your eBook.
Related Articles:
Once you start your blog and write down all the benefits of purchasing your eBook, you need to optimize your site to increase the ranking of the site in search engine results. Get an SEO specialist to optimize your site. Besides, you can also do SEO of your site to increase the visibility of your site.
I have written many articles on SEO and its techniques. You can learn different techniques to SEO and try them on your blog/website. SEO helps to drive lots of traffic on your site.
Read & Learn
Next step is to choose a payment gateway to accept payments from your eBook buyers. I will suggest you pick a payment option which has low fee per transaction to keep your eBook business profitable.
Purchase a Secure Web Hosting Server
You need to store your file on the secure server so that no third party can access your eBooks without your permission. So purchase the best hosting server with low cost where you can keep your eBooks safe and secure.
Check Out:
This is the last and very important step to start your eBook business. Once you did everything don't forget to promote your eBook. There is no use of launching a product or creating an eBook unless you promote it.
You can promote your eBook on various platforms. Besides, you can start from social media networks such as Facebook, Twitter, Instagram, LinkedIn, Google+, YouTube and much more. Moreover, you can use different Digital marketing techniques such as Forum Posting to promote your eBook.
So, that's all. These are some steps to start your eBook Business. If you already have a blog, just find out your niche and start your eBook business. This will help you make additional money from your blog.
Related Article:
Final Verdict
EBook is a good way to start your business as an entrepreneur. So, don't waste your time and start you eBook business now to make a profit.
I hope you like this article. If you have any query regarding this post, don't hesitate to ask in the comment section.
Subscribe to my blog "SEORamanArora" to get daily updates. Also, share this post with your friends. Moreover, you can keep in touch me on Facebook, Tumblr, twitter, Instagram, Linkedin, Google+ and my  Youtube Channel.