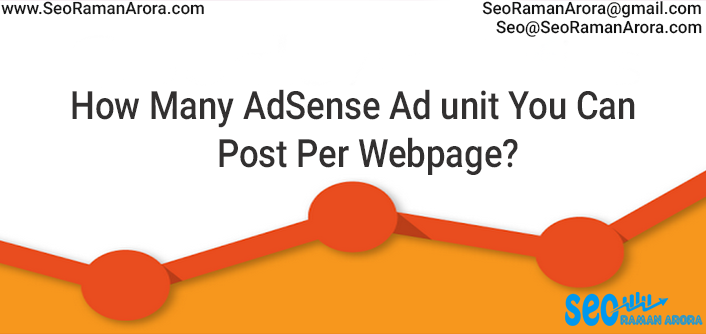 How Many AdSense Ad Unit You Can Post Per Webpage?

From last few days, I have noticed that people are constantly searching for How Many AdSense Ad Unit You Can Post Per Webpage. When I started using AdSense for my blog, I have gone through all policies of Google AdSense to know about this. I have heard and know that Google is very particular about their policies. If someone violates their policies, they will suspend the account. When I set up AdSense account, there was a limit on posting ads per page.

Here are text excerpts of old policies by Google

Ensuring Proper Ad Placement:
Up to three AdSense for content units.
Up to three link units.
Up to two search boxes.
The publisher may not place more than one 'large' ad unit per page. We define 'large' ad units as any unit similar in size to our 300*600 format. For example, this would include our 300*1050 and 970*250 format, our 750*200 and 580*400 regional formats, and any other custom-sized ad with comparable dimensions.
However, keep in mind that placing the maximum number of allowed ad units on a page might result in it looking cluttered. Read our optimization Guidelines for tips on where to place your ads. For best practice on custom-sized ad units, review our custom size ad units per page.
How Many AdSense Ad Unit You Can Post Per Webpage?
Mobile Implementation: The above ad limits also apply to mobile sites. In addition, two or more AdSense ads may not appear on the screen at the same time on a mobile site. Publisher with sites using responsive website should consider that ad units may shift into non-complaint positions as the site scales across different devices. Google always want their users to get the best experience while browsing through any website they refer. Maintaining a clean design with good navigation and user experience will boost your chances of getting AdSense approved in the first attempt itself. This is one of the major guidelines where lot of people miss the basics. Google believes that if you maintain professional color scheme on your website, the user might be willing to come back and click on the relevant ads which are displayed under your content.
Here is the visual proof of old policy.
Personally, as I blogger, I was not happy with these policies. I have to restrict myself to only 3 ad units per page. Sometimes, I felt very annoyed. This must be happened with many publishers because with a blog of 1500-200 words, it is very difficult to manage only three ads in such long blog.  There were some bloggers who got special permission from Google to publish more than 3 ads per page. They are premium AdSense publisher and have minimum 10,000 page views per day.
Did you also feel annoyed by such policies?
If yes, then here is good news for all who have using AdSense.
"AdSense Ads units per page limit has removed"
Are you happy? Great!!
Yes, it is true that Google has removed a limit on Ad units per page. According to a new policy, a limit has removed. It is such a big relief for all AdSense ad publishers. It is confirmed as I have received mail from Google AdSense about this policy confirmation.
Here is the Proof of Policy Changed by Google.
According to Google 'ad placement policies section', old policy by title 'ad limit per page' has been replaced with title 'valuable inventory' but with a caution that a number of ad units per page should not exceed the amount of actual content.
Here is the description of new policy regarding "AdSense ad units limit per page"
Ensuring Proper Ad Placement
Valuable Inventory
Advertising and other paid promotional material added to your pages should not exceed your content. Furthermore, the content you provide should add value and be the focal point for users visiting your page. For this reason, we may limit or disable ad serving on pages with little to no value and/or excessive advertising until changes are made.
An example of unacceptable pages includes but are not limited to:
Mirroring, framing, scraping or rewriting of content from other sources without adding value.
Pages with more advertising than publisher-provided content.
Automatically generated content without manual review or curation.
Hosted ad pages or pages without content.
Pages that do not follow our WebMaster quality headlines.
Here is the visual proof of new policy.
It is indeed a big step and change by Google AdSense.
Here is actual meaning of Google by policy 'Value Inventory'
Word 'Value Inventory' simply pointing that ad inventory in your page should be given more value than a number of ads per page.
Next point is 'There is no limit on ad units per page' which means you can have more than 3 ad units per page but remember a number of ads should not exceed a volume of your content.
According to a new policy, Google will also take care about how many other ads are placed per page. It will crawl your page thoroughly. The total number of ads whether they are Google ads or third-party ads should not exceed the volume of content. Ads should be given less value than content in a page.
You still can not place ads on thank you, log in, error or log out pages.
In next guideline, Google mentioned that the same policy 'No limit on ad units per page' and 'Number of ads should not give value more than a volume of content' is applicable for mobile ad units as well.
According to new guideline, you can also place more than one large ad units having size more than 300*600 per page.
Although it is good news for all publishers or bloggers, but still if you are thinking to have too many ads on your blog or site then try avoiding it. Sometimes have too many ads on a site may disappoint visitors and they may leave you site. I would recommend you to use 3-4 ads per page. If you use text ad and image combination then it would be great for your site. You must try to focus on quality and volume of content.
New policy encourages publishers to maintain the balance between advertising and quality of content.
Do not violate the policy of AdSense as Google may suspend your AdSense account anytime.
Hope you like this blog and get the answer to your question 'How many AdSense ad units can be placed per page?' I have shared this knowledge from my personal experience and I tried by best to deliver you the valuable information with visual proof.
If you like this blog, please share and Comment or Share on Your favorite Social Media Account. Join us on Facebook, twitter, Linkedin, Google+ and Youtube Channel namely 'SEORAMANARORA'. If you have any query regarding this blog feel free to ask in a comment section. I am here to help you.