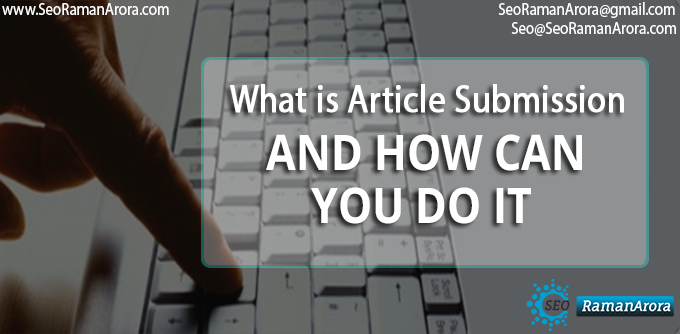 What is Article Submission and How Can You Do It

Article Submission plays an important role in getting success in any online business. If you are a running an online business, you must be aware of different SEO techniques. Article Submission is an Off-Page SEO technique. If you want to increase your ranking in search engine results, you cannot ignore the importance of article submission in SEO.

Most of the people write articles to drive a massive amount of quality traffic to their website. Also, if you submit an article to High PR article submission sites then you will get valuable backlinks.  Besides, Google loves high-quality articles. If you also want to increase your brand popularity start writing a high-quality article.

Is it enough to write quality articles?

No, there is no use to write a fresh and unique article until it is read a king's share of people. So, you have to promote your articles. For that, you can publish your post to various article submission sites.





What is Article Submission?
Article Submission is basically a directory where you can submit high-quality content to various article submission sites. There are large number people who share their article on various article submission sites. Therefore, if you submit an article on of the site which provides high page ranking, then your article will be visible to all the visitor of that site. If they like your article, they will definitely visit your site to view more articles.
When someone visits your site to read more articles, you will get a backlink. Google gives more value to websites which have quality backlinks. So, your website ranking will get automatically increased.
Search Engine Bots regularly go through various Article Submission Sites. Make sure you submit your article to genuine sites only. Also, it will index your post faster in SERP.
Besides, you can also add the link of your post or website in the article. This will help other people to visit your site if they like your post.
How to Submit an Article to in Article Submission Sites?
If are a newbie, you may have some confusion about "How you can submit an article to various article submission sites". Don't worry. It is quite easy. Just follow the steps given below:
Firstly, go to one of the High PR Article Submission Sites.
Now, create an account on that site.
Next, login to your account.
Then Go to your profile setting and add your details such as links of your social media account.
Click on the one of the option 'New Article' or 'Submit a New Article' on the website.
In next step, you will see article publishing area.
In publishing area, write an eye-catching title for your article and add targeted keywords for your article. Keywords will help to index your post in organic search results. Then write a summary of 50-60 words.
Then choose a relevant category for your article. I will suggest you select the category very carefully because it affects the ranking of your post.
Now, write your entire article in the body section. You can also add the link of your post or site in the rticle.
Lastly, enter author details and submit your article.
Benefits of Article Submission 
I have already told you enough about the article submission and how you can do it. Now let's a take a look on some benefits of article submisison.
Increase Visibility of your site in organic search results.
Get higher ranking in SERP.
Build Brand Awareness.
Increase Direct Traffic to a website.
Boost Google Page Rank.
Improves Link Building Process.
Provides your valuable backlinks.
Improves Alexa Ranking.
Helps to get massive traffic to a website.
Summary
Article submission is very important part of SEO. Also, it is effective way to increase your presence on web. So, try this technique to improve SEO of your site. I hope you find this article helpful. If you have any query, feel free to ask via comments.
Subscribe to my blog "SEORamanArora" to get daily updates. Also, share this post with your friends. Moreover, you can keep in touch me on Facebook, Tumblr, twitter, Instagram Linkedin, Google+ and my  Youtube Channel.