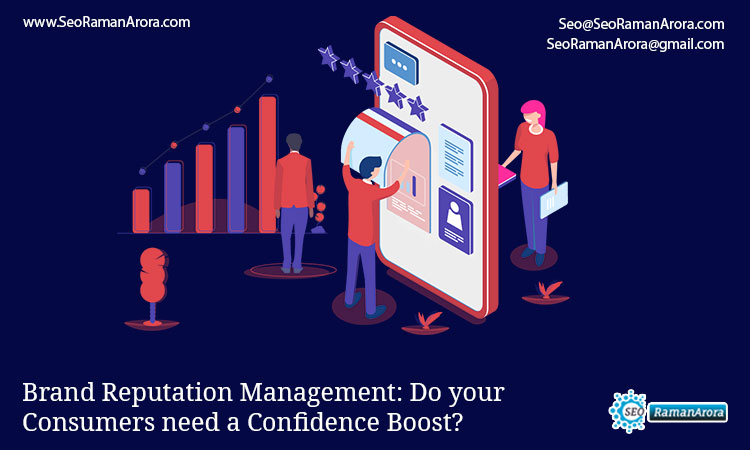 Brand Reputation Management: Do your consumers need a confidence boost?

In the virtual world of websites, apps and software programs, there is little that matters more than the reputation of a company. New brands work day-and-night to build one and old ones spend sleepless nights polishing theirs. Brand reputation is all that decides the future lead generation, conversion rates, traffic and sales.
Brand Reputation Management
No matter how old or new your business is, it requires expert management of its reputation. Good management builds consumer loyalty and confidence. The lack of a good reputation can lead to subpar sales, disappointing quarterly performance reports and massive losses. If your online presence is not generating the uproar it should, then maybe it is time to reconsider your reputation management goals.
SEO and reputation go hand-in-hand
For businesses catering to a local community, reputation is key to improving turnover. In New York, 70% of new companies go under within the first 5-years. While that is the dismal truth, research shows that the lack of recognition and the subsequent absence of profit are responsible for the fall of most new small businesses and start-ups in the city. In a cut-throat market, new companies in New York need to take pro-active measures to build and maintain a positive reputation, and Get House Deals SEO is one of the many ways to achieve that.
Reputation is the secret to leadership
Your company should strive to become an industry leader. Besides offering unique and excellent products to your target customers, you need to worry about your social media presence, online blog and forum mention, web reviews, testimonials and third-party business directory mentions. SEO is not everything in the virtual world. Apart from website optimization, a brand needs to pay attention to what its genuine customers are saying about their products and services. The mention of a brand name on local third-party directories, online forums and social media posts also act as ranking signals.
Monitoring and mending social media mentions
Reputation management and SEO experts can help a brand preserve its reputation by managing its social media presence and monitoring its local ad campaigns. For example – SEO teams can listen in on social media conversations that mention the name of a particular brand or trademarked product using dedicated social media listening tools. It not only helps them track the conversation trends, but it also enables them to develop a strategy to work on the brand's personality.
Brand reputation management can deal with negative mentions
One of the most critical parts of reputation management is tracking and responding to online reviews. Many brands don't pay attention to the negative reviews believing them to be demoralizing, unnecessary or fake. Nonetheless, research shows that responding to negative comments tactfully garners confidence and loyalty from the consumers on the same forum.
Brand reputation depends on how the PR team interacts with the existing and potential consumers on the web. Therefore, hiring a reputation management team to take care of negative mentions or brush up existing brand reputation is only a long-term investment with lucrative returns.