Comparison With LongTail Pro and Semrush Keyword Analysis

There are many keyword research tools available over the internet. LongTail Pro and Semrush Keyword Analysis are two most famous keyword research tools. If you are confused which one is better, this article will solve your confusion. If you want to get the traffic to your website, you have to use the right tool.

You might be aware of the fact that in order to increase your sales and the online income, you have to bring in more visitor from the search engines to your website. Search traffic is not only free but it is the highest quality traffic that you can get. Bloggers face problems like they find a problem in finding the right keywords for their blog. And even if you find the keyword research tools like SEMRush, HitTail or Moz, you get confused which one to use because you can't afford to buy each and every SEO tool.

To clear this confusion, I decided to write a detailed comparison of the LongTail Pro and Semrush Keyword Analysis. I have used both tools and I am well aware of the pros and cons of both the tools. By the end of the post, you will be clear in your mind that which tool is best for you and suits your requirement.

Let's start the analysis.
LongTail Pro and Semrush Keyword Analysis : An Unbiased Comparison
The first question that may pop up in the mind of many readers is that why to use the premium keyword research tools when we have free tools like Google Keyword Planner, Keyword.io etc.
Let us first discuss on this. Then we will move on to the comparison between the two LongTail Pro and Semrush Keyword Analysis.
Finding the keywords becomes easier with the paid tools like SEMRush, Long Tail Pro as compared to the free tools like Keyword planner by Google.
Doing the keyword research is fast and simple with the paid keyword research tools. They also give you lots of keywords ideas which free tools do not provide.
You can also do the competitor analysis with SEMRush, Long Tail Pro tools. This means, you can find out the keywords that are driving more traffic to your competitors and you can try using them to increase your traffic too.
Keyword Research and Analysis
Targeting the right keyword is the reason why bloggers get a massive search traffic to their site even if they don't update their blog frequently. Due to the same reason, most bloggers fail to search traffic even if they are updating their blogs frequently.
Another mistake that most of the people make while keyword research is that they make use of Google's keyword planner tool to make a list of a few keywords and start using them on their blog posts.
It won't work. Thousands of other bloggers and marketers are also doing the same. So no matter how low competitive keywords you choose, it is still hard for you to rank for those keywords.
To overcome this problem, you can choose between two options. First, hire an SEO expert who is guaranteed to bring the traffic or second, start using a keyword research tool that cost you around $100.
So, which is the better option? If you are having a lot of budgets, you can hire an SEO expert to increase your search traffic. But this is not the case with 99% of the bloggers. They all have a limited budget. I am going to show you two keyword research tools to find the keywords that can boost the overall traffic.
Why use SEMRush
SEMRush is an incredible tool to boost the traffic of the website. SEMRush is one of the best tools that is proven to work. This tool has several databases depending on the countries you target. These databases are updated on the daily basis to give you the right information about the keywords you are looking for.
SEMRush is a great tool to overtake your competitor's in the search results. With SEMrush, you will get in-depth information of the keyword phrases like CPC distribution, search traffic, and keyword difficulty.
Benefits of using the SEMrush
Find any website's traffic.

Check and analyze the backlinks of the websites.

Easily perform the keyword research.

Create an audit for your site to fix all the website issues.

Check the keyword positions.

Analyze up to 5 competitors at once.
Disadvantages of the SEMRush Tool:
There isn't any disadvantage that I have come across while using the SEMRush except the fact that I have to spend $100 every month. But is worth the single penny because the results of this tool are what made me keep using this tool. I was able to increase my visitors drastically with the help of this tool.
The biggest advantage of SEMRush over Long Tail Pro
If you are looking for the reasons to find out why you should go for SEMRush instead of Long Tail Pro, let me tell you the reason:
SEMRush is an advanced tool that is capable to beat your competitors in every regard. You can not only find your competitors keywords but also their backlinks, estimated traffic etc. You can also perform your site's audit and fix issues of your website.
Overall, SEMRush is a great tool that is suitable for all kind of bloggers and marketers to grow their sales and increase the traffic. This is highly recommend keyword research tool, you must use it.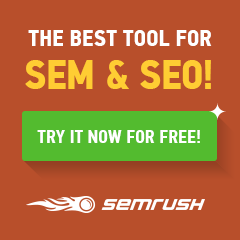 It works.
0% Success
It doesn't!
Why you should use Long Tail Pro
Fed up of using the Google Keyword Planner for the keyword research tool? The tool gives you the same keywords that everyone is using and you still have to fight a huge competition.
If you are looking for a better alternative, Long Tail Pro is the tool you must be looking for. It is the best keyword selection tool that helps you to find the keywords that are less competitive.
Pros of Long Tail Pro:
You can easily get unlimited keyword opportunities

You can focus on profitable niche

Create target campaigns to boost the traffic

Search multiple keywords all at once

Automatically find the domain names

Generate up to 800 results for every seed keyword

Check the rankings on all the search engines
The only con you find with the LTP is that it is useful for finding the long tail keyword only.
Long Tail Pro gives you a list of long tail keywords by eliminating the short tail keywords. This really helps in increasing the search traffic.
You will also get a 7 days free trial on signup.
It works.
100% Success
It doesn't!
Related Articles:
Conclusion
This was an honest review of the SEMRush and that Long Tail Pro. I've used both and I love both of them. Although both of them are used for the keyword analysis, SEMRush is clearly the better of the two because of the variety of features it can offer.
Both the tools are extremely efficient in finding the profitable keywords but both of them are completely different tools as one helps you to find the long tail keyword whereas the other help you in overall SEO.
If you are looking for a good keyword research tool only, go for Long Tail Pro. You will not find a better tool than this.
If you are looking for an all-rounder SEO tool that not only helps you to find the profitable keyword but also help you in estimating the traffic, analyzing backlinks etc, SEMRush is the better option.
So what is your choice? Tell me in the comment section!