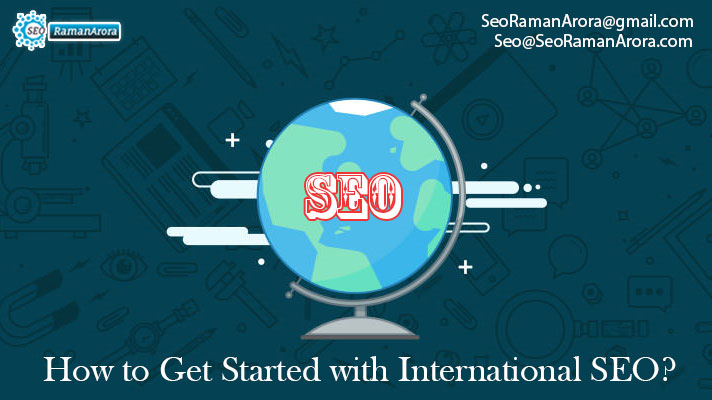 How to Get Started with International SEO?

International SEO is gaining a lot of importance lately. If you have a business that sells in the international market, or you want to expand your market globally, then you need to expand your SEO efforts. Targeting multiple countries, multiple languages and multiple audiences can be difficult at times. But a good international is achievable if proper planning is done and the right approach is followed for unique situations. So, Get Started with International SEO to improve your Business Globally.
What is international SEO
International SEO is the process of organizing the web pages to allow the search engines to identify the countries you are targeting. It is almost similar to how we offer the SEO for small business that targets multiple locations because they organize in accordance with towns cities, countries or state.
When international SEO is performed correctly, even a small business can expect a huge Return on Investment. There is a lot of information available about the international SEO available over the internet. But there is a lot of outdated information also. This can mislead your SEO and will not be able to provide you with the best results.
There are a lot of SEO professionals who have managed global SEO for years but have missed out on the basics due to Google updates. In this article, we will discuss some of the frequently asked questions about international SEO.
How is international SEO different from regular SEO?
The first thing to keep in mind is that your global sites should not be a copied version of your home country website in different languages. However, it is seen a lot on many websites. However, translation and localization are the first steps towards the international SEO but after that, you have to optimize the sites according to the country's local audience and overall user experience of the website.
Get Started with International SEO
A website having popular and well-performing content in the USA may not perform well in the Asia Pacific region and vice versa is also true. The content of each country may need additional changes according to the audience. For example, a country designed for a particular country may not appear in another country. You have to keep an eye on the performance of the website. Otherwise, your websites may be competing against each other or may not index at all.
Do I need a site for each country?
The answer to this is Yes. If the market is big enough for you to invest. Not just for the SEO reasons, but also for the better user experience to the local visitors. However, it may not be a feasible option if you are at the beginning. Luckily, we can use the hreflang tags to tell Google which language and the country is a website created for.
For Country targeting, the following should be used:
ccTLD – Country Code Top – Level Domain
ccTLD is the ideal structure to geo-locate due to the specific country extensions. But you will need more efforts to grow their popularity from scratch as new and independent domains. TripAdvisor and Amazon use ccTLD for their country targeting.
Sub Directories
Subdirectories might be the best structure to start with if you have a gTLD since they will inherit its popularity.
Sub Domain
These are the most viable options when you have a gTLD. And want to avoid the additional level of depth to your website structure. You will be indexing a lot of content and you can easily isolate the different web versions with the sub-directories. But, this might need some additional efforts to develop the sub-domains popularity.
The optimization
Now its the time to optimize the web targeting and the type of structure you are using. Make sure that the website is crawlable indexable and relevant. For the general international web optimization, you can consider the following:
Crawlability and Indexability
As each of your web versions needs to be crawlable, they need to be featured in their own URLs under their relevant web structure. It is also important to cross-link between your international web versions.
Relevance
It is fundamental to translate or localize the different elements of the pages of the international versions. By using the keyword and phrases that you have identified during the initial search.
URLs
The title and meta description
Menu and navigation elements
Headings
Images and ALT descriptions
Main body information
Reviews
Prices, phone, address, etc. should be as targeted as possible.
Related Articles:
Final Words:
As you have seen that the basics of international SEO go beyond just translating the content of your website. It is a full SEO process that needs research and analysis to select the best ways to target your international audience and then correctly implementing the targeting. Otherwise, it would be difficult to achieve your international SEO goals. Also, remember that each of your international Web version will need continuous content and marketing support to refresh and grow its structure.