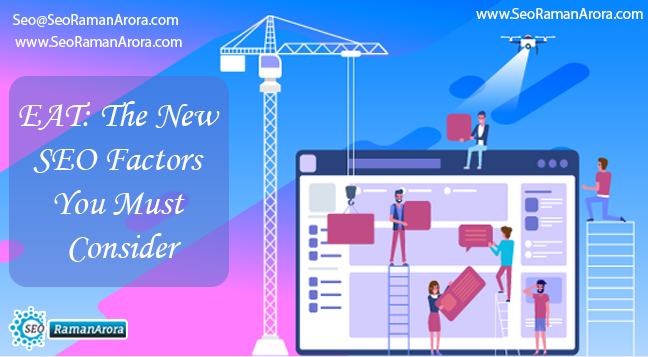 EAT: The New SEO Factors You Must Consider

If you are into doing SEO for some time now and want to make it even better then you will have to continue to learn about the latest trends in SEO and implement it in your service. You can learn a lot from different sources such as:
Your peers
From the experts in the industry
From the different informative websites and more.
Gaining knowledge from these sources you will further need to make sure that you:
Research on your own theories and practices
Do several case studiesand also
Practice a lot of SEO at the topmost level.
When you do so you will come to know that you will do better if you EAT more, that is to gain in Expertise, Authority and Trust on SEO.
Need for EAT
These are the most significant characteristics that will help you to excel and make a great career not only in SEO but in any industry. Over the years with so many new sites popping up every second, these characteristics have become an obligatory staple in website designing, development, management and SEO.
Given the present scenario it is extremely important to injecting trust onto the customers and hence into online commerce. It is all about your website that will convey the best message in the best possible way to convey trust in turn to the visitors.
A 'core update' was released by Google, the most popular and extensively used search, in August of 2018. This was also called the 'medic update' and involved two core subjects:
EAT: Meaning Expertise, Authority and Trust and
YMYL: Meaning Your Money and Your Life.
It required all sites and pages to follow this algorithm update whether it is medical, financial, legal or any general e-commerce site.
This called for the SEOs to know about EAT and YMYL    more and understand the significance of these in SEO and how it will affect in the site rankings. The final conclusion was found to be improvement in the overall quality of the website.
Reputed and reliable SEOs such as Joel House Search Media Brisbane now focused on creating websites that are:
Fast loading
Responsive and
SEO friendly.
They used specific tools and content management systems such as CSS framework and WordPress to come up with beautiful looking sites in a comparatively quick time.
Interpreting EAT
Now what does Google actually mean by EAT should be your next question. Well, looking back a couple of years, in 2015 Google released a quality rater guideline that used to be a secret but not anymore. This copy was revised and it included EAT and YMYL.
Expertise:
You can earn expertise in a wide number of ways and climb up the ladder of success in your specific industry and even in doing SEO. A few of the ways to earn expertise are:
By obtaining a college degree that can be MBA, law, doctorate or even a diploma from any accredited college
By obtaining a certification for training and in-person test from any standard and reputed organization online or offline
By working in a specific industry for a specific number of years
By reading and writing on different topics or specific industry for a number of years
By publishing case studies
By thorough researching
By watching and making YouTube videos and
By being interviewed by others such as an expert or a journalist.
Expertise is something that is very evident and will show through your practice. You may require different level of expertise for different works.
Authoritativeness:
You can be an expert in a particular subject but that does not mean you will be the authority, which is primarily important for doing SEO. While the converse is also true as an authority may not be an expert on a particular subject. This is the trickiest part.
An expert may be adept in web development, UX design, blogging and network administration but an authority will be an active blogger. They will be the person whom everybody follows.
There is one key factor to know about authority and that is though it is a very important element, but it will never stand by its own. This means if you want to be an authority, you should also have either trust or expertise but in most cases nowadays both are preferred.
There is one more thing. You should not mix up authority in any other industry with social media and SEO. It is a completely different matter wherein an authority is usually referred to an 'influencer.'
Trust:
This is very easy to define but very hard to attain and retains. As an SEO or website author you can build trust in the following ways:
Stay away from lying cheating from the visitors of your website
Refrain from manipulating them to click
Do not use sneaky re-directs or affiliate links
Always cite links and sources to different other reputed and trustworthy blogs, articles and websites and
Make sure to use your real name while blogging.
There are also several other factors to consider for building trust such as:
Age of the domain name
Type and quality of backlinks used
Quality of the content and
The SSL certificate.
There are different ways in which you can implement EAT in your SEO and it includes:
An 'about us' page
All relevant info about your company
A 'contact us' page with NAP, email, map, hours of operation and others
A customer service page for e-commerce sites
Terms of service, privacy and cookie policy
A functional user interface that is responsive
Afast loading site
A consistent layout
An easy to navigate menu and
Ensuring site security.
All this will ensure that the website is in perfect order, and provide better ranks and SEO results. It will improve the quality of the site and discourage shoddy content and fake reviews and testimonials.
As for the EAT SEO side effects it will affect the interrelated dwell time, bounce rate and page in a positive manner to ensure better SEO results and increase the other SEO worthy parts of your website to boost rankings.