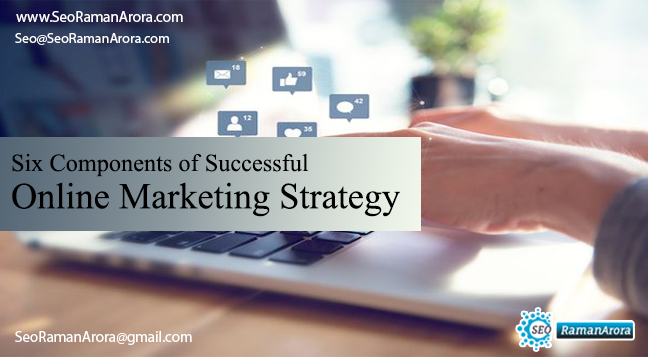 Six Components of Successful Online Marketing Strategy

Whether you are a blogger or business man, you have adapt better Successful Online Marketing Strategy, if you want to grow your business. Well-planned and quick Online Marketing Strategy will help you to resolve your issues and make improvement in your business. Search engine has some important guidelines which you have to follow to improve visibility of your website. Google's algorithm crawl that website which will follow their terms and conditions and apply some efforts on Keywords. Before starting your website or blog, you need to follow some articles mentioned at below:-
If you are running a blog and need to improve your Online Marketing Strategy, follow these guidelines according to my personal experience.
Website Design :
If you are serious about advertising your product online, so definitely you need a website. A website should have a good design to make online market efforts more effective. Moreover, Website design should be clean, attractive, professional and user-friendly so that visitors can navigate easily. There are lot of things which you need to focus for designing a good website for online marketing strategy which are as follows:
Your site should be optimize to all browsers as well as all smartphones because nowadays most of the users prefer to browse internet on their smartphones or tablet.
Your site should be responsive so that mobile user can visit your site without any design issue.
Site Content should be fresh and up to date.
Integrate with marketing automation tools.
Include call to action to your site or other pages of your site so users can see what else your company can do for them.
Use relevant keywords to get high ranking in search engine results.
 Search Engine Optimization :
It is an important component of online marketing strategy. Maximum online users begin their search for anything on search engine. If your site does not appear in search result that mean you need to do a good SEO of your site. Furthermore, SEO help your site to get appear in search engine result s and also to get high rank in organic search results. There are many techniques to get high ranking in search engine results. Following steps needs to be followed for good SEO:
Use long tail keywords to get higher rank in search result.
Search and use keywords which are mostly searched by visitors related to your market.
Use keywords in different section of your site and title of your site to get high ranking of your site.
Optimize each page of your website.
 Social Media :
Social Media becomes an amazing platform to increase traffic on your site and get high ranking in search engine results. So, You must sure that you have account on social media network where your target audience is spending much of their time. You need to optimize your social media profile in order to attract new visitors to your site. Moreover, Your social media presence should be targeted toward building relationship with new and potential customers.
Your social media presence gives you following benefits:
Allow you to reach a large number people and advertise your brand.
It helps you in reaching targeted audience.
Drive traffic to your site.
Attracting new visitors by updating information about your site regularly and also by posting ads of your product.
Helps in creating a community to make interaction with other people.
 Email Marketing :
Email marketing is one of the most effective techniques for promoting business online. However, Email marketing return maximum ROI than any other technique of online marketing. However, it is the best way to advertise your product and services. Email marketing is very helpful in building good relationship with potential customers as well as attracting new customers.
You need to take care of following thing before sending email to customers:
Make a complete list of people to whom you want to send email.
Choose a good template for sending email.
Use relevant and quality information in email content.
Add logo of your company in end of email.
 Blogging :
 It has been seen that people you write blogs for their sites get more traffic than those who do not. So try to write and post blogs on your site and relevant keywords for that so viewers can reach you site easily.
Make sure of following things while writing a blog:
Blog contain fresh and relevant content.
Shared on social media network.
Easy for readers to subscribe to your site for more updates.
Make easy to comment on blog or ask any question about it.
 Paid Advertisement :
To get high rank and for good visibility in search engine results, you need to invest in paid ads. Visibility of your site in search engine result is must for getting traffic to your site and for any successful digital marketing strategy. Moreover, Paid ads makes appears your site on top of search results. So investing in such thing is not waste. However, Google Adwords is paid ad which helps to increase your site visibility in organic search results.
There are following reason that you should invest for paid ads:
It can be used as a SEO tool for getting high rank.
Success of paid ad is immediate.
You can pay per click on ad.
You can reach target audience by paid ads.
Hence, these some techniques which will help you to boost your Online Marketing Strategy. If this article will help you, then share, comment or Subscribe our Youtube Channel.
Join our Team on Facebook, Twitter, Linkedin, Google+ and Youtube.