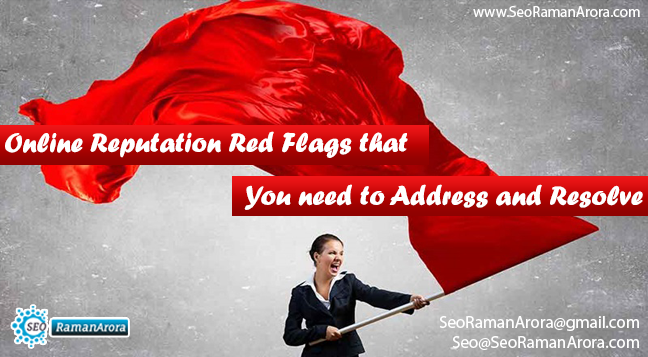 Online Reputation Red-Flags that You need to Address and Resolve

Businesses used to operate in a different way when there was no internet. Even customers responded differently. And the amount of information that your customers could know about you was also minimal. These were the days of Yellow Pages. The purchasing process has undergone massive change with the advent of online technologies. And it can get a bit uncomfortable for brands to check how at times their online reputation gets affected because of public comments and feedback.

Your online reputation is essential! And if you happen to be in an investor-facing role, network frequently, gave your business cards it is important to know that people are searching for your company and other news in Google. And investors and employees are arriving at major decisions depending on the information available online. To manage your online reputation and avert any hassles that might come, you can reach out to Webmetrix Group SEO Company for professional assistance.

Furthermore, today you can also take note of the online reputation red flags, which can negatively impact a business. Discussed below are a few of the red flags that tell you that you will have to manage your online reputation management activities accordingly.
There are negative search results online for your brand
Online results play a crucial part when it comes to your online reputation. And you need to pay attention to it because it adds to the first impression that customers have on your brand and business. Almost 65% of people look upon online search as one of the most authentic sources of data about companies and people. Today, negative first impressions are a common factor. Almost 50% of the US adults, who have conducted a Google check on themselves, didn't find much positive information.
Are you thinking about how that is possible? The answer is that today anyone can say anything about you and post it online. Regardless, of whether the opinion is true or not, people won't get into trouble for posting negative comments about you. And this comprises of an employee who you fired, your unsatisfied clients, an enemy and the like. The problem is when you realise that people can track whatever you do online. And when it comes to companies, anything from negative press to old lawsuits gets recorded online and impacts their online brand reputation.
The recent research outcome indicates that businesses are at risk of losing almost 22% of their business, with new clients when they find any negative feedback online. It is especially true when a negative comment appears in page one of Google search results. And today, there's a chance of these negative search results increasing if you don't address the issue at hand.
If you get a significant chunk of your business from referrals, then you might wonder if this red flag can matter to you! Maybe it isn't making any difference today, but you never know when a negative red flag can act against your brand and eat away your business opportunities. Hence, it is essential to manage the frequency of negative talk online. If there are irrelevant articles highlighting negativity towards your brand, you should address them with an inflow of positive news about your company. You can't delete the old articles. But when you have new story about you, the past updates will gradually disappear. Hence, it is essential to invest in a customised online reputation management campaign for your company.
Negative Reviews have Represented you in an unfavourable way
Every brand has an old story of an angry customer or ex-employee. The point is with online technologies available, people who used to be a part of your business can inflict ample harm on your online reputation by merely posting an unfavourable comment about your brand. Some irate consumers express their views on Google Reviews and Yelp and other similar platforms. Similarly, you might come across a negative review written by an ex-employee in platforms like Glass door and the like.
In recent times, business owners have reported about irrelevant negative reviews that had made them lose out on a small chunk of customers. Not every online user decides to experience the brand by themselves. Sometimes they go by the unreal reviews that can be the outcome of some old angst. Business owners also have to deal with a negative bias that exists on their brand name. Does the same hold true for you? If yes, then you need to address this issue at hand at the earliest. And if you don't, then your business will suffer, and you can also witness money loss.
Almost, 84% of people today count on online reviews in addition to the personal recommendations. And even when there is a one-star increase, it has been instrumental in maximising the revenue by a good 5% to 9%.
Hence, it is essential to have a strategic plan right in place. It might be difficult to retrieve the losses that occur from unfavourable online reputation and reviews. The ideal way is to take into account the flaws pointed out and acknowledge if that's true or false. If a customer has been accusing you pointlessly, out of whim, a company needs to release a press release to set the correct perspective in place.
You are not producing online content
Are you still not publishing relevant content? If yes, then you need to do that at the earliest. Regardless, of whether you are a B2C or B2B business, global or a start-up company, you need to invest in proper digital content. The users today arrive at buying decisions based on the online content that your company produces. The reason for this is simple! The purchasers almost make half of their buying decision even before they have met the sales representative. And if you happen to concentrate on discounts, pricing and sales tactics, and not the content you will miss out on a significant chunk of the online audience. Producing online content can include earned media coverage, blogging, case studies, white papers, infographics, thought leadership articles and many more.
Keeping a track as to how are you viewed online is essential. And if you resonate with the three red flags discussed above, then it is time to act on your online reputation initiatives at the earliest. It is essential to have a favourable reputation online in today's competitive online market.