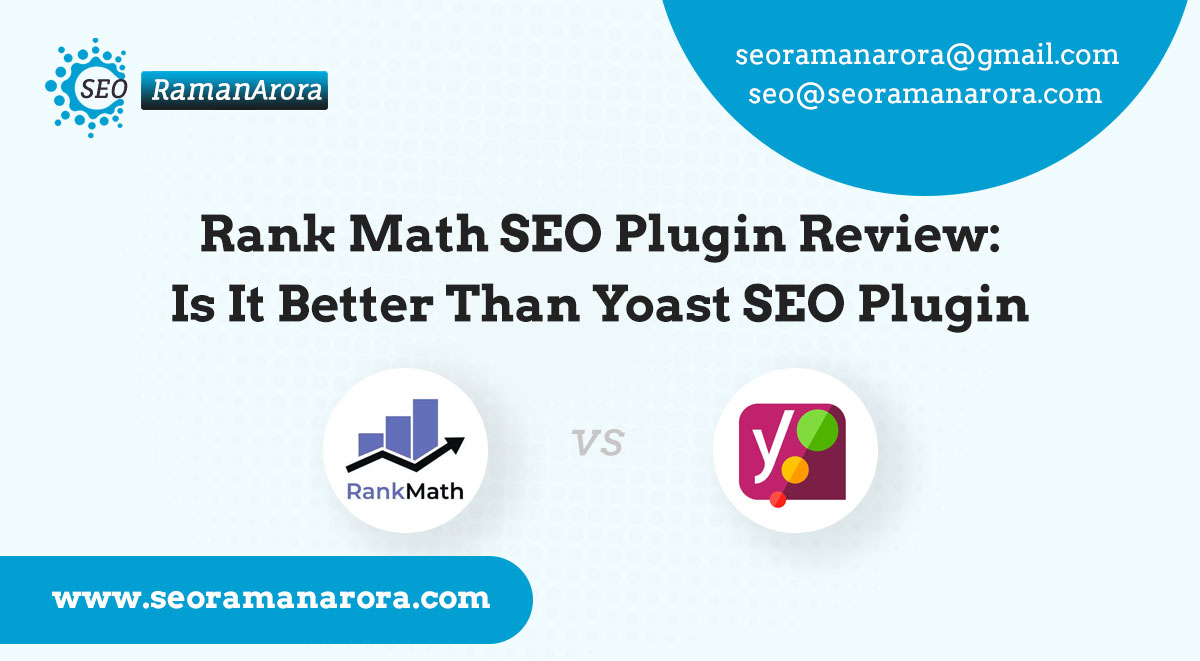 Rank Math SEO Plugin Review: Is It Better Than Yoast SEO Plugin

If your website isn't optimized for search engine results (SEO), your audience is unlikely to find it. Yoast SEO was the default plugin for many users until recently, with its easy setup process and content suggestions. Yet Rank Math is rapidly becoming the new SEO powerhouse, which might lead you to wonder: how does Rank Math compare to Yoast SEO?

These tools can be used by users regardless of their expertise level. As long as you follow the provided tips, integrating your focus keywords into your posts shouldn't prove too difficult, even for a complete beginner. But if you're interested in digging deeper into your website's search engine optimization, Rank Math gives you a lot more options.

As part of this article, we will present you to the plugins of Rank Math and then look at their differences in four areas by comparing Rank Math with Yoast SEO. Let's get started with the Rank Math SEO Plugin Review.
Rank Math SEO Plugin Review: An Overview 
To get an in-depth idea about Rank Math SEO Plugin Review, we need to know the key features of Rank Math and Yoast SEO. The comparison between the two can give a better answer for Rank Math SEO Plugin Review.
Yoast SEO was founded in 2010 by Joost de Valk. It is a potent and user-friendly tool. Using this plugin, you can incorporate the focus keyword into your posts and include the meta tags without touching the code. It also provides you with recommendations for improving your writing and readability.
The free version of Yoast SEO offers limited functionality. For $89, you can access more functions and use them on one website with the premium version. Advanced options such as a redirect manager and internal linking suggestions are available through this.
In contrast, rank math has a relatively recent history. Designed for entrepreneurs and small businesses, it comes with smart automation features that help you improve your site with a few clicks. This tool is also integrated with Google Search Console and various keyword ranking tools, providing a competitive advantage over your competitors. In addition, you can disable features that aren't needed as it is lightweight.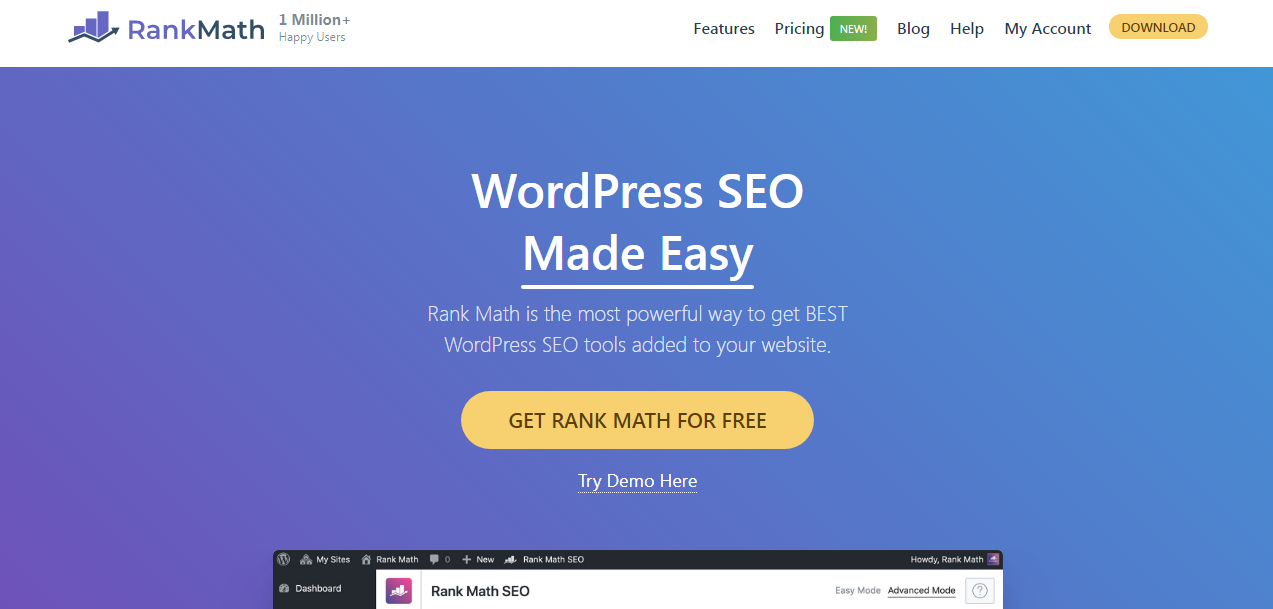 A free version of the plugin is available, while premium plans begin at $59. The Pro version allows you to track 500 keywords and has a powerful schema generator.
They are both excellent for optimizing a website, and their intuitive functionality makes the process easy. Even so, there are a few subtle differences, which we will examine in the following sections.
It works.
100% Success
It doesn't!
Rank Math vs Yoast SEO: Comparision Based on Plugins
After introducing both tools, let's examine how they compare across four key areas to get a broad prospect for Rank Math SEO Plugin Review.
Keyword optimization
Your pages should be optimized for a focus keyword if you are using an SEO plugin. This can be accomplished through both Rank Math and Yoast SEO.

Your posts will be tagged with five keywords by default when you use Rank Math. By using a filter to your page editor, you can easily increase this number to an unlimited number of keywords.

With Yoast SEO, you can only select one keyword to optimize for, or you can select up to five if you opt for the Pro version. The addition of more keywords may not improve your search engine rankings, but it may improve your page rankings by including related keyphrase variants.

Both tools provide keyword suggestions within your post editor and indicate when the post is ready for publishing. Having the focus keyword in your heading and monitoring keyword density are examples of what they'll suggest.

The Yoast SEO editor provides SEO suggestions either at the bottom of the page or in the sidebar.

In Rank Math, the features are displayed only in the sidebar, which can be activated from the toolbar by clicking the Rank Math button.

The suggestions generated by both tools are similar. Rank Math provides a numeric rating for your keyword optimization efforts, with scores above 80 considered optimal. When Yoast SEO provides an assessment, it displays an orange light for content that needs improvement and a red light for unacceptable content.

It is also much simpler to edit a post when it is displayed in the sidebar. Rank Math wins in this category due to these reasons.
Content optimization
Keyword optimization goes hand in hand with content creation. Yoast SEO provides a readability test as well as advice on writing better posts, making your SEO efforts even more successful. If your article reads well to most people, Yoast SEO shows you a green light similar to its keyword analysis. The tool offers suggestions for improvement and highlights areas for improvement if there are any issues.
Using more transition words or rewriting your sentences in the active voice, for example, could improve your essay. Yoast provides reading suggestions in accordance with the Flesch ranking, which will provide a sense of how easy or difficult your text might seem to readers.
The Rank Math tool gives you tips on how to make content more readable. You'll see them as part of the overall score for your website (between 0 and 100) rather than as a separate review.
There is no conclusive evidence that readability negatively impacts your site's ranking, but a good user experience (UX) is a contributing factor. Thus, Yoast has the edge over other plugins in this area since it can improve your posts as a whole.
Other SEO tools
As you become more knowledgeable about SEO, you may want to adopt more sophisticated tools. To know the solid reasons for Rank Math SEO Plugin Review, you must know what Yoast SEO and Rank Math provide. Yoast SEO and Rank Math, for instance, both provide you with the following features:
Google Search Console integration

Automatic canonical URLs

XML sitemaps

Social media optimization

SEO breadcrumbs

Post preview

Site verification

Schema markup
However, Rank Math offers a considerable number of free tools. You cannot access internal links or high-performing keyword suggestions if you do not have access to Yoast SEO Premium. Rank Math also enables you to redirect readers to a new page, analyze social media shares, and view advanced keyword analytics free of charge.
Furthermore, Yoast does not offer any of the features that Rank Math offers. The competitive keyword ranking tracker, for example, helps you know how your site compares to the competition.
You can also examine your highest and lowest ranking posts with Rank Math. Even more, you will be able to choose from a list of made-up templates or create custom ones using the advanced schema generator.
With Rank Math, you can also enjoy the following features:
Google Trends integration

Image SEO

Automatic image captions

Client management dashboard

Advanced redirects for 301, 302, 307, 410, and more

Log of 404

Automatic video data fill for video schema

SEO warnings and failed tests

Advanced 'no follow link options

Role manager

Local SEO
We believe Rank Math offers the most comprehensive SEO options over Yoast for these reasons.
Ease of use
It is easy to install and set up both Rank Math and Yoast SEO. You are guided through each step using interactive wizards.

There are two modes in Rank Math, however: easy and advanced. A beginner may find all of the options too overwhelming if they use the first one. With Rank Math, you will not have to do any work; its default options will be applied automatically.

Professionals and experienced SEO experts who are looking for complete control over their sites should use the advanced mode. 

Rank Math also comes with a modern interface that enhances your user experience. Content analysis is made accessible even to first-time users with the dashboard's clean layout and colourful graphics.

The dashboard of Yoast SEO, on the other hand, has barely changed over the years. Although it might seem a little old-fashioned now, many users keep using it since they are familiar with it. 
Rank Math SEO Plugin Review: Which is Better?
Neither plugin is inferior, so you can't go wrong with either. On the other hand, Rank Math is kind of a game-changer that will allow power users to up their game.
Most other SEO plugins on the market cannot compete with the advanced features of the Rank Math. Here are a few examples:
Customize schemas to your specifications

Take advantage of advanced custom fields

Keep an eye on 404 errors

Explore your keyword research further

Ensure that your redirects are effective

Develop an XML sitemap

Make your site Alexa-friendly
It's possible that you can uninstall a few plugins that help to achieve some of these tasks if you use others. It's, therefore, an excellent choice for companies or individuals who are serious about their SEO.
The module-based nature of Rank Math allows you to pick and choose which features you need without overwhelming your site. As a bonus, the plugin is three times lighter than Yoast SEO, so it is ideal for users focused on performance.
SEO is necessary to gain visibility online, which is why WordPress plugins specialize in SEO. With its comprehensive content analysis and user-friendly interface, Yoast SEO is still the industry leader.
Rank Math, meanwhile, gained momentum recently, and it's worthwhile to investigate these two options to ensure you choose the right one. We hope Rank Math SEO Plugin Review will help you make a better decision. We are using Rank Math SEO plugin from a while and it's performing well. So, we recommend you to try this better version of SEO plugin.