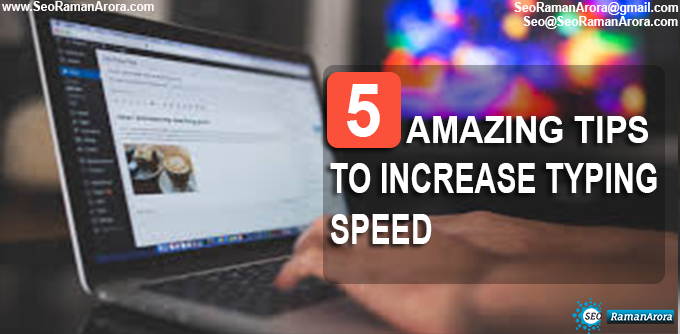 5 Amazing Tips to Increase Typing Speed

Friends as we live in a technical world, everyone should be familiar with the term "computer".  When we talk about computer skills, typing is a main area of interest. Today, each person use computers for their personal and professional work.  If you want to become more talented in your work, your typing speed must be higher. So enhancing typing speed might be important if someone wants to grow. Although, you will get plenty of Tips to Increase Typing Speed, but today I will tell you some Amazing Tips to Increase Typing Speed.

Taking not much time, let's start with the Tips to Increase Typing Speed.





5 Amazing Tips to Increase Typing Speed
Some people think that they can increase typing by reading some books but frankly speaking, typing is something that only increases by Self-practice and with proper training. If you really want to increase your typing, you must be dedicated to practicing every day.
Let's start with some tips that will definitely help you to enhance your typing speed:
Practice
As I already tell you that Self-practice is the only way to enhance your typing speed. For new typists, this makes their figures familiar with keyboard keys. On the other hand for advanced typists, this will help to develop their memory muscles for typing.
Accuracy
When I was starting my career as a computer typist, I was trying to enhance my typing speed for many months but I was failed. I start to give more stress on accuracy rather than typing speed. And then I realize that my typing speed will automatically increase and I feel more control on my typing.
Arrange your fingers properly
Place fingers correctly on the keyboard will help a lot if someone really wants to increase their typing speed. Besides, Key "F" and "J" plays a major role in keyboard typing. Place index figure of your left hand on "F" and similarly right figure on "J" and if you ever see keyboard these keys usually have slight bumps on the key surface.
Find a typing class
If you are really tired and still not got any results then try to search any professional typist that will help you. Mentors will definitely check your figure position and this will carriage you to type quickly and accurately.
Placement
This is the main thing that every typist needs to consider is that try to use both of your hands. Apart from that, The better way to memorize key positions is to place a thumb on the space bar, index figure of the left hand on "F" and index figure of the right hand on "J" Key.
Type Along
Typing practice means that you can write anything such as, what you hear, songs, reports, new paper and so on. This will definitely help you to become more familiar with different words.
Apart from above Tips to Increase Typing Speed, there are some other main points that need to be considered when you start typing:
Make sure your back is supported
It is necessary that your back is properly supported with a chair or any other thing that help you to comfortably write.
Relax your neck and shoulders
Shoulder and neck play a major role, so it is important that your shoulder and neck keep at the relaxed position. Mostly you can achieve this sitting behind your chair's backrest
Keep your wrists and palms off the desk
Try to avoid resting your palms and wrists on the surface of the table. For not doing this you can type more quickly and accurately.
Related Articles:
Top 7 Tricks to Write High-Quality Content For Your Blog
Top 10 Ways to Write More Blogs in Less Time
Wrap-Up
To sum up, I hope you like this article "6 Amazing Tips to Increase Typing Speed". Try these tips, I am sure these will really help you to improve your typing speed. If you want to ask something, leave a comment below.
Please share this post on social media. You can also join me on  Facebook, Tumblr, twitter, Instagram Linkedin, Google+ and my  Youtube Channel.