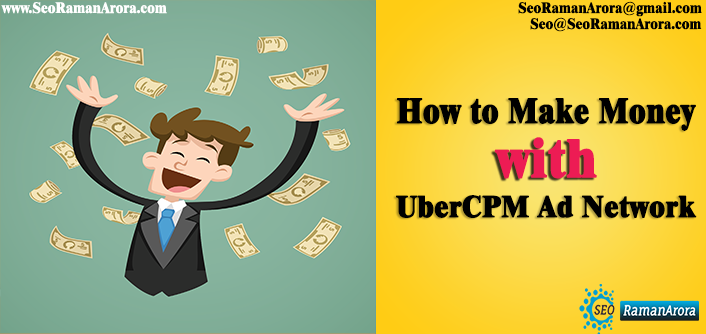 How to Make Money with UberCPM Ad Network

Do you want to Make Money with UberCPM Ad Network? Well, you are at right place. I will tell you how you can generate revenue from your blog with UberCPM.

Although, there are many ad networks which can help you to generate huge revenue from your blogs but UberCPM is one the popular ad network to earn some additional money with your blog.


What is UberCPM Ad Network?
UberCPM is one of the most leading CPM online advertisement networks. It provides the best solutions for advertisers, publishers or ad networks. Moreover, it has most effective and simplest CPM advertising method. This makes it easy for publishers to make money. Further, it shares 80% of revenue with their publisher which is a great benefit for publishers. Additionally, it is one of the highest paying CPM ad networks for publishers.
Are you facing any problem with some other ad networks?
There are a number of situations when your account gets disapproved or rejected because of certain conditions. UberCPM is the best alternative to make money online in these conditions. Moreover, UberCPM approves your account instantly once you get registered with the UberCPM ad network. You just have to make sure that follow policies of UberCPM publisher program. After that, It will review your site again after it gets approved whether you have violated any policy of UberCPM publisher program.
UberCPM Ad network is the best choice for all publishers as they don't need any minimum traffic on their site. In addition, they don't have to wait for account approval. Once you get registered to UberCPM, you will be able to display the ads on your site instantly.
Although, you are making a good revenue from your blog with other ad network s but still you can add some additional bucks to your income with promoting UberCPM.
Apart from that, it offers various types of ad formats to promote UberCPM. Additionally, you will get 24*7 support by UberCPM Support Team. Also, you can track your performance with it.
In order to Make Money with UberCPM Ad Network, you need to create an account on UberCPM. Another benefit of joining UberCPM is that it has free sign-up form.
Before moving further, let's discuss requirements for joining the advertising program of UberCPM.
Requirements For Joining UberCPM Advertising Program
Sites must not have made for the advertising purpose.
Publishers must not host objectionable content like pornography, gambling,  and spam etc. on their site.
Ad network doesn't approve PTC or auto surf sites.
Your site should not contain content like Hacking or Cracking.
Sites must not have broken copyright laws.
The Site must not sell drugs, Alcohol.
Details of UberCPM Advertising Network
Share 80% of revenue to its Publishers.
Get started instantly
Earn up to $10 eCPM
International Traffic Friendly
Payment Method – PayPal
Minimum Payout – $25
Monthly Payout on every 2nd of the month.
Timely Payments
Banner Ad Size – 120×600, 160×600, 300×250 and 728×90.
Maximum 3 Ads per Page.
Status Coverage System to track your performance, earnings, CTR, page impressions and much more.
24*7 Supports by UberCPM Support Team.
Now, it's time to learn how can you Make Money with UberCPM Ad Network. Let's move further.
Make Money with UberCPM Ad Network
As I already told you above, you need to create an account on UberCPM to make money from it. Therefore, I am going to provide you step-by-step guidance for creating an account on UberCPM.
Let's start.
Follow the steps given below:
1. First of all, visit the page UberCPM.
2. Click on the Sign-Up button.
You will see a sign-up form on the next screen. You have to enter your details such as username, emails id, company name, address, phone number etc.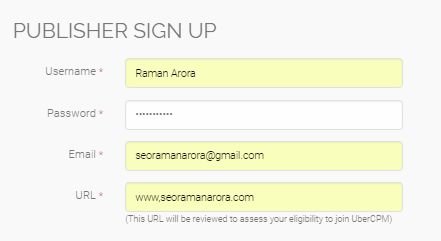 4. Check mark on the checkbox to agree its terms & conditions. Now, click on 'I am not a robot' for security verification and click on the sign-up button to create an account on UberCPM.
That's it. You have successfully created your account on the UberCPM. After that, you will receive an email in your inbox along with a confirmation link. Click on the confirmation link to verify and activate your account.
Once you confirmed your account, you will again receive an email for account approval.

Congrats, you are done. Now you are ready to Make Money with UberCPM Ad Network.
Go ahead, login to UberCPM Dashboard with your login details. Cody the code of the ad and place on your site. Once you added the code, UberCPM will start displaying ads on your site.
If you are already using some other ad network like Google AdSense or Affiliate Marketing on your site, you can still add some extra cash in your pocket with the UberCPM ad network.
Check Out:
Summary
UberCPM is a good platform for publishers to earn some additional cash with its advertising program. If you're looking for best ad network with the highest payout then it is high time to join the UberCPM advertisng program.
I hope you find this article informative and helpful. So, get ready to Make Money with UberCPM Adertising program. If you have any query regarding this article, let me know via. Comment section.
Like this Article?
Share this article on social media.
You can also subscribe to my YouTube channel for more videos.