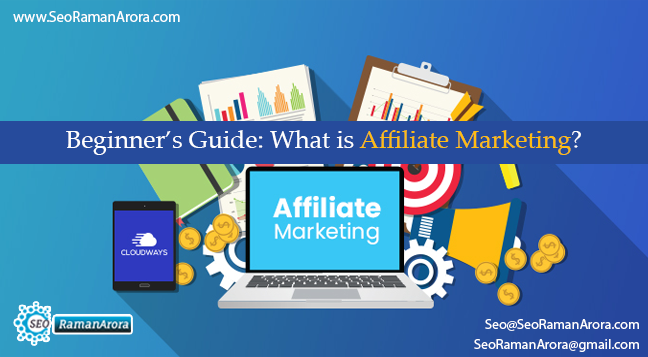 Beginner's Guide: What is Affiliate Marketing?

If you are a blogger, you might be earning money from AdSense but you won't be earning enough money from it. So, if you want to earn more money it should be helpful for you to do affiliate marketing as well to get more profit.

Affiliate Marketing is a platform which allows merchant to expand reach and brand marketing. In affiliate marketing, if a publisher advertise merchant's product on their site and any visitor buy a merchant's product recommended by publisher, then publisher get the commission from merchant.
Affiliate Marketing
Affiliate Marketing is a relationship between Merchant, Publisher and Consumer. It allows publisher to make money by generating sales and traffic for merchant's business. It is also referred to as win-win situation as three parties are gaining something.
Merchant is also earning by selling their products and services to customers.
Publisher is getting business by referring merchant's product on their site and generating sales for merchant.
Consumer is also getting product or service he wants.
In this article, I will share basic details about affiliate marketing and you need to understand to know What is Affiliate Marketing how it works?
In some other simple words, it is one of the oldest form where you refer someone to any online product and that person buys the product based upon your recommendation, and you will receive the commission. This commission varies from $1 to $1,00,000 depends upon what product you are offering and how much percentage merchant is offering.
Many online companies who are selling their products such as Cloths, web hosting spaces, WordPress themes, usually offer an affiliate program. You can sign up the affiliate program and get your unique tracking link. When, you will write about particular product, just place the special tracking affiliate link to recommend the company's site or their product.
If you are going to start your Blog: Go through some WordPress themes for Blog
If, you reader's will buy anything, you will get the commission. Every affiliate program has their own Terms of Services. For example, many of them offers a 60-day cookie period, which means that if any visitor uses you referred affiliate link to land on the sales page on the site and buy something within 60 days, you will be entitled to the sale's commission.
Let us discuss these three parties more in brief according to affiliate marketing:
Merchant – Merchant called as who is selling their products or services in order to earn revenue. Merchant also ready to pay to people, if they will advertise their products or services on their site by placing some banner or text link of merchant site.
Publisher – Publisher called as who is selling merchant's product or services by using an affiliate link of merchant site. Publisher gets commission if anyone purchase merchant's product from publisher's site.
Consumer – Consumer called as who actually sees and click on ad of merchant's product on publisher site that takes them form publisher's site to merchant's site and then finally make purchase.
Affiliate Marketing Commission Model
Cost Per Lead – When a visitor complete a form on merchant's site who is referred by publisher and merchant pay according to per lead then this payment structure is called as a Cost Per Lead. 
Cost Per Click – When a visitor click on a merchant banner or ad from a publisher website then merchant pay to publisher according to per click, this payment structure is called as Cost Per Click. 
Cost Per Sale – When a visitor actually buy some product or services on merchant's site which is referred by publisher then merchant pay the publisher according to per sale, his payment structure is called as Cost Per sale. 
Cost Per Impression – A merchant pay to the publisher for every 1000 impression of their banner on publisher's site. This payment structure called as Cost per Impression.