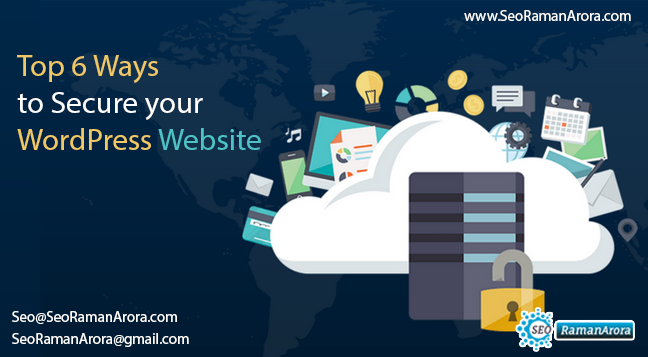 Top 6 Ways to Secure your WordPress Website

Creating a WordPress website is a lot of hard work. It takes a lot of money and resources to keep the website running. The people who own a WordPress website will agree with me on that. For some, their website may be a vital source of income. And this, my dear readers, makes the security of the website as important as anything else. Here are "Top 6 Ways to Secure your WordPress Website"

There are a few things that you need to know about the security of the website.

WordPress is a safe and secure platform for your website. But there is more than you can do and should do to make your WordPress website more secure. There are many security adjustments that are easy to make and can be implemented within minutes. There are some security plugins available which you can just install to make your website secure.
Why do you need to Secure your website?
If you already have created a website on the WordPress, and want to secure your website, this is a must read for you. WordPress is a reliable and secure platform to create the websites. The developers of the WordPress are concerned about the security of your website and they are dedicated to making the core security as hard as possible.
That is the reason why they release security focused patches and updates. These updates are automatically downloaded and installed on your website. This makes your website more secured against the security risks that emerge every now and then.
Having said that, we also know that no platform is 100 percent secure. Hackers are constantly trying to ruin your website and get the important data out of it. Even the well-protected websites are not secure as they are constantly hit by security breach efforts of the hackers.
In this article, I will be telling you Top 6 Ways to Secure your WordPress Website. So, let's get started
1. Use Quality Hosting
To make your website secured, it is very important to choose a quality web hosting provider for your website. The quality of your web hosting has a huge impact on the performance as well as the security of the website. A solid host can help the website to grow, enhance its performance, improve search rankings and more. The best host offers a plenty of features like customer support, better services, and security. Here you some quality web hosting provider like Bluehost, Hostgator, hostinger and Dreamhost.
Confused about which WordPress hosting you should choose? Here are Top 10 WordPress Hosting Providers for you.
2. Get HTTPS/ SSL Certificate
You all might have heard of the SSL certificate. SSL Certificate enables you to switch your website from HTTP to HTTPS, a more standard version of HTTP. HTTP is a protocol that transfers data between your website and any browser that is trying to access it. When any user requests your website, the data is transferred through this protocol to the visitor's location.
This is where your data is under the potential threat. This is where hackers can leak your data. HTTPS is the solution for this. HTTPS does the same thing as HTTP but it encrypts the data when the data is transferred.
If you want to know more about HTTPS/ SSL certificate, read Secure Your WordPress Website with SSL Certificate.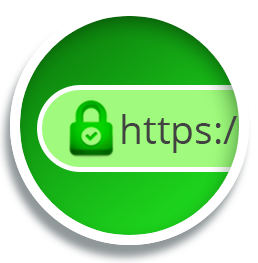 Once you get the SSL certificate, you simply need to implement HTTPS. This can be automatically handled by your host. If not, it is pretty simple to do that yourself.
3. Make Secured Login Credentials
This is a no-brainer. Common! you need to choose better usernames and passwords than your name or your pet name. Choose your login credentials carefully. Do not choose the obvious credentials. Why? Because this can turn down the hacker's effort to hack your website.
Your password is very important. You have to choose a strong password. If choosing the right password is hard for you, you can choose WordPress's password generator that automatically generates a hard password. Make sure to note down the credentials at a safe place.
4. Enable Web Application Firewall
You might be well aware of the concept of the Firewall. A firewall is a software that helps your computer to block all the unwanted attacks and potential security threats. There is a Firewall for the websites too. It is known as Web Application Firewall (WAF) which is designed exclusively for the websites. You can use Jetpack WordPress Plugin to secure your website, which has plenty of functionality.
A WAF can act as a barrier between your website and the rest of the web. WAF monitors all the potential threats, detects threats, malware, viruses or anything that is considered as a risk to the website. There are various web hosting services that provide WAF as a part of their package.
If your web hosting provider has not provided you WAF, you can opt for the dedicated plugin. You can go for Cloudflare. It makes your website secured from threats and attacks. Its installation is also quick and simple.
5. Implement Two-Factor Authentication
Two-factor authentication is a great way to address the security problem. There is a two-step process to logging into your site. It takes a little more time but you can protect the website from being hacked. The two-factor authentication involves your smartphone to verify the login. After you enter the username and password, it will ask for a unique code that is sent on your registered mobile number. You can choose a plugin for this service.
6. Add New Plugins or Themes Carefully
Do you know why WordPress is really cool? Because you get a whole lot of plugins and themes. This helps you to get plenty of features and tools to make your website look more functional and attractive.
But not all plugins are created equally.
There are developers who are not having the right level of experience and can create the plugin that is not secured and unreliable. This can make your website vulnerable for the attacks by the hackers. There are various Themes and Plugins are available on ThemeForest store, which you can use for Blog, Business, eCommerce and Magazine.
Before choosing the plugin or theme, keep in mind the following points:
Check the user ratings and reviews before choosing the plugin.
Check the last update date of the plugin. Frequently updated plugins are more secured.
Install new themes or plugin one at a time. So, if anything goes wrong, you can reverse engineer it.
Always take a complete backup of the website before adding anything to it.
Get your plugins and themes from a trustworthy source only.
Final Words
I hope all these steps will help you to make your WordPress website secure. What is the point in compromising your personal information and data security for saving a few bucks! So, why not take appropriate steps in time to strengthen your website security.