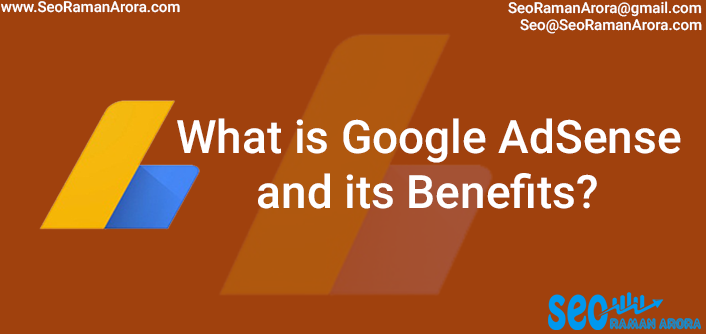 What is Google AdSense and Its Benefits?

Do you aware about "What is Google AdSense?"

There are millions of people who started writing and publishing their content on the internet for promoting their brand. Google has provided a novel way for publishers, website owners or bloggers to earn money by displaying Google ads on their site or blogs.






The novel way of making money by displaying ads is "Google AdSense". It is free to pay per click program who pay to publishers when someone clicks on Google ads on their sites. It is one of the best techniques of earning money. In today's age, there are millions of people who are making the profit by Google AdSense. It is one of the easiest ways to make money by sponsored ads.
It is a powerful tool for bloggers to make money as they can earn money by displaying ads on their blog. Although, there are many tactics for making money but AdSense is a most effective way for bloggers.
AdSense is a Google's product which shows contextual ads according to your content. You just need to sing-in on AdSense account and place the code provided by Google AdSense. After that, Google ad will start running in that section.
To know more about you can click on the following link:
A Complete Guide to Google AdSense for Beginners
Apart from generating revenue by displaying Google ads, there are many other advantages of Google AdSense. Today, I will tell you some important reasons why you should start using 'Google AdSense' and what other benefits it offers to publishers.
Advantages of Google AdSense:
Good Interface – AdSense provides you a good interface for managing ads on your blog or website. Design and look are one of most important part of a good website. Every blogger focuses on making their website attractive as to engage an audience and make them visit again. Good websites are well designed and structured. AdSense allows you to customize your ads according to your preference.
Easy to Setup and Use – You don't need any help of some expert to setup AdSense. It is very easy to setup. You just need to sign-up for AdSense Account on Google AdSense Official web page.("https://www.google.com/adsense/start/") Once you registered, it will take some time to accept your request for AdSense account. Once your AdSense account is approved, you will receive the code by them which you can place anywhere on your website or blog. Ads will start displaying in that section.
Trustworthy Product – As you know AdSense is a product of Google. It means there should be no chances of some fraud. You can completely trust on this product as you do on Google.
Offers Search Option with AdSense – AdSense also allows you to add web search option with AdSense which is the great benefit. It helps the publishers to keep the visitors on their site even with the web search. With the help of this add-on, there will be more clicks by visitors on ads. More clicks generate more revenue for you.





Google Offers Ads Relevant to Your Site Content – In most of the cases, many advertising programs who offers to make money through ads requires a user to find ads on their own and publish them. But AdSense is a program which chooses and provides the ad for you after crawling your site by AdSense Spider. Then it looks for inventory to choose relevant ads according to a content of your blog or site which is a great relief for publishers.
Online Resources Available For Help – If you are not programmer or coder, you do no need to worry because it does not require any coding or technical knowledge. But still, if you got stuck somewhere or you want some help to know much about AdSense, there are many online resources available on Google such as ways to optimize AdSense for your website. AdSense Help Centre is also available online for other queries. Still, you are unable to apply an adsense account. Hire me on Contact Us Page, I will apply An Adsense Account for you.
No Involvement of Third Party – One other benefit of using Google AdSense is that there is no involvement of the third party in this program. You have to deal with only AdSense. It will offer you ads and pay you money according to pay per click or pay per impression.
One Account for Multiple Accounts – You can run multiple sites from one single AdSense account. This is one of the great features of AdSense which many advertising programs do not have. Once you added many sites to your AdSense account, it will offer contextual ads to those sites. But revenue of all sites will be added in that single account only. With most of the advertising program, you have to manually add your individual sites. Ads will be displayed only after approval of sites. But AdSense makes it easy as you do not need to wait for approval to add all your sites.
Sureties of Payment – There are various advertising programs available on the internet who allows making money by displayed ads on publisher sites. But some of those programs are fraud. There is no surety that you will get the payment even if you get many clicks on ads from your site. But As AdSense is a product of Google, which means it's trustworthy program. You will surely get payment on basis of cost per click and cost per impression.
Offer Support Forum – Google AdSense also have a support forum which offers the various tutorials about AdSense, services it offers and also how to boost revenue from it. It is also a great advantage compared to other advertising programs.
Your Site Space is in Demand – If you have high traffic on your site, and then there will be many advertisers who will compete for ad space. More popular your site will be, more you get revenue from ads and also relevant ads which add value to your content.
Mobile Friendly – Most of the people use Smartphone's or tablets nowadays. People prefer to open only those websites which are responsive i.e. mobile friendly. Similarly, people only like to view ads which are responsive. AdSense offers responsive ads. It means a quality of the ad is not compromised and it offers a good user experience. But only one ad can be responsive per web page.
Connect With Target Audience – AdSense itself provide ads to publishers. AdSense Spider crawl your site and looks for similar content in its inventory. After that, it provides ads relevant to your blog or site and also it takes help of cookies to fetch information about most visited pages by users. Ads related to your site helps in the engaging audience.
Give Real-Time Performance – Google AdSense provides you the custom insight of performance of your site. It provides you all the metrics like how many people view ads, how many people click on ads, who mostly like the ads and many others, all these helps to see where right tweaks can increase profit. You can check what is working for you what is not from a complete stat provide by AdSense.
Control Look of Ads – AdSense also allows you to control the look of your ad. You can custom look of ads which will match your site. You will have complete control over your site. You can also choose where you want to display ads and block ads you don't want to display on your blog. You can also control categories of ads you allow. You can give different styles to ads.
Highly Recognized Advertising Program – It is one of most popular and highly rated advertising program. It is very well recognized as it is Google's product and also it approves all type of blogs and sites. It only rejects those sites or blog which have some invalid or irrelevant content. AdSense also accepts those after improvement.
Don't Need to Invest Much Time – Everything need time to invest, whether building a website, promoting brand or services, maintenance of a website. But you need to spend much time on AdSense as you just need to check in only once on regular basis to check performance to make further improvements.
No Need to Sell Products – As there are money advertiser who is ready to pay you if sell their products or services by advertising them on your site. But AdSense does not ask you to sell any product or services. You will start earning the moment visitors see Google ad on your blog or click on an ad. It adds a great benefit to you. You do not have any target or something that need to complete to earn money. You just need to have a huge traffic and you will start earning enough money from AdSense.
Free to Use – One of the biggest advantages for a publisher is that AdSense is free of cost. You do not need to spend any money on making more money. You just need to register for AdSense account. It takes very less time to set up AdSense account. Once your account is approved, you can start earning from AdSense without any investment.
Expand Sponsored Ads – AdSense is not only limited to displaying ads on your blog or websites. You can expand your experience with AdSense as it also allows publishers to place ads on RSS feed and search result. By this way, they will target their audience.
If you like this post, Comment or Share on Your favorite Social Media Account. Join us on Facebook, twitter, Linkedin, Google+ and Youtube Channel.