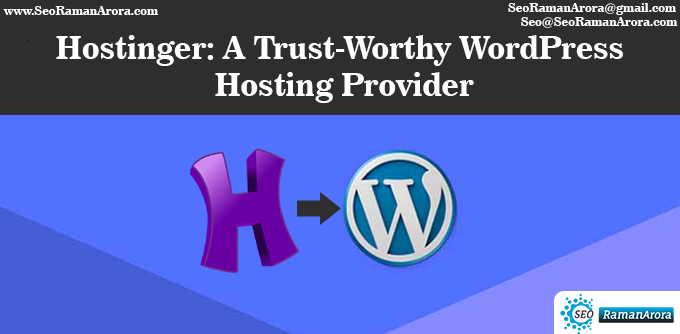 Hostinger: A Trust-Worthy WordPress Hosting Provider

Hostinger is a globally recognized and Trust-Worthy WordPress Hosting Provider, which is known for blazing fast servers, dedicated customer support, and affordable packages. The company was bootstrapped in the year 2004 with an aim to cater the needs of people looking for reliable, developer-friendly hosting platform.

In a small period of time Hostinger has secured a huge client base of more than 29 million users. At present company has 8 data centers across the globe that are managed by over 200 employees. Hostinger is gaining more and more popularity and receiving 20,000 new signups every day.

If you eager to know what makes Hostinger different from other, read this article till the end. I have evaluated different services from Hostinger to know how worthy they actually are.

BUY NOW
A Trust-Worthy WordPress Hosting Provider
Services:
Hostinger has 4 major web hosting services to offer:

Shared web hosting

VPS hosting

Domain registration

SSL certificates

Hostinger is meant for intermediate web hosting users who like to invest in hosting plan that offers various hosting features in a single package. Hostinger owns a uniques cloud infrastructure that offers shared hosting at affordable pricing without compromising on performance.
Coming to its VPS hosting, it has a wide range of packages to choose from. Each comes with a separate set of features. Although their VPS hosting packages run on IPv4 address yet most of the people do not see any issue in terms of performance. Moreover, the company is accredited with ICANN and provides domains in all major extensions.
Uptime:
Uptime is the time your website remains available on the web without any interruptions. Like web designing, development and user's experience, Uptime is crucial for the overall health of your website. To track the Uptime of Hostinger, I installed 'Uptime Robot' on my website, which tracked my website over a course of 3 months. The tool observed 100% uptime.  I was surprised to find that an affordable hosting company showed such great results.
Speed:
The page loading time is one of the important parts of user experience. Since it is directly associated with your brand's reputation, you should never compromise on this. If your website does not load quickly on the web, it can kill both your brand's image and revenue. Because the speed of your website depends on the performance of the server, make sure you have chosen the company that has a minimum response time.
I analyzed the speed of Hostinger server for my website built using simple HTML code. And the response time I recorded was 69ms (In the US server). To give one more try, I tested the speed of my another website built in the Website Builder. Surprisingly, the speed was approximately same with a mild difference of just a couple of milliseconds.
Customer Support:
Hostinger offers two ways to access its customer support: Live Chat Support and Email Support. You can get in touch with their representatives whatever way you like. Their Live Chat and email support are very reliable and you can expect to answer for your query in a minute or two.
User Friendliness:
Hostinger comes with an auto installer in the control panel that makes installation process easy for any website made on platforms such as Joomla, Drupal, WordPress, etc. Anyone who has basic coding knowledge can easily use its auto-installer scripts.
It works.
100% Success
It doesn't!
To find more information click here.
Wrap-Up 
I hope, I delivered my best knowledge in this article "Hostinger: A Trust-Worthy WordPress Hosting Provider". If you are using any web hosting services or running a web hosting company, please share your experience with us in the comment section.If you have any query regarding this post, don't hesitate to ask.
Like this post?
Don't forget to share this post on social media. You can also follow me on  Facebook, twitter, Instagram, LinkedIn, Tumblr and subscribe to my YouTube Channel.