WP Tab Widget Pro – Increase Pageviews by showing Relevant Content

Tabs are a great way to serve the content in a more attractive way. Showing content in the tab decreases the bounce rate and you can retain the visitors for a longer period on the website. It also makes the blog or website more professional and interactive. WP Tab Widget Pro provides you with plenty of options that make it different from all the other plugins available in the market. Its price is also pocket-friendly. It is a great plugin that allows you to create beautiful tabs without writing a line of code. It also has a great set of features. Let us discuss them in detail.




There are various Themes and Plugins are available on mythemeshop store, which you can use for Blog, Business, eCommerce and Magazine.
WP Tab Widget Pro – Increase Pageviews by showing Relevant Content
Compatibility: WP Tab Widget Pro is a quick and easy way to install tabs in your website. It is compatible with all the WordPress themes. No matter what theme you are using. The plugin will work with almost all the themes.
Create Engagement: WP Tab Widget Pro plugin is a great way to increase the engagement in the website. You can show recent content and most popular content in your website and keep your visitors engaged.
Add Unlimited Tags: You can add an unlimited number of tags to the content. This will categorize the content and users will be able t find the content quickly on your large website.
21 Predefined Templates: WP Tab Plugin comes with 21 beautiful and stunning templates for your website. You can pick the one that is most suitable according to your requirement. The templates are attractive and eye-catching. You also have the option to customize the plugin and create your own template.
29 Paging styles: You can choose to page from a list of 29 attractive paging styles. The paging helps the users in navigating through the content.
Customization: There is no limit to customizing the plugin. If you are familiar with the WordPress, you can customize the plugin as much as you want.
Unlimited Color schemes: You can choose from unlimited colors in WP Tab Widget Pro. Match the color of the plugin with the website color and create an eye-catching plugin for your visitors. Also adding the tabs is incredibly easy. You can drag and drop the tabs and place them where you want them to be.
Preview: Preview the tabs before implementing them. WP Tab plugin makes sure that the things look exactly the same way as you like them to be. Preview the tabs and commit once you are fully satisfied.
Inbuilt Caching: The tab widget has an inbuilt caching system that won't makes the website to load every time. This makes the process faster and easier. The installation process of the widget is also very easy. You can easily install the plugin with one click installation.
Choose thumbnail size: Pick from several thumbnails that suite your website. You can also change the title of the tab according to your requirement. You can also choose the length of the title that you want to show. Avoid truncated titles and keep things neat and clean.
Show/ Hide Post Excerpt: You also have the option to show and hide the excerpts which are a great way to keep the readers interested. You can decide which content you want to show and which content you want to hide.
6 Predefined loaders: With WP Tab Widget Pro, you also get 6 unique AJAX loaders to give a unique look to the website. Choose the one that is most suitable for your web design. You also have the option to set a number of posts you want to display. There are lot more settings that come with the WP Tab Plugin. It can help you to create the exact look and feel of the website.
WP Tab Widget Pro also has a smooth and easy navigator. It makes sure that your users find what they are looking for and do not get confused. Another cool feature of WP Tab plugin is that it is optimized for SEO. Search engines can easily find your website as the plugin is SEO optimized.
Related Plugins:
WP Tab Widget Pro also provides 24*7 customer support to its users. If users get an issue, they can contact us whenever they feel like. The plugin also comes with a lifetime usage. Just purchase the plugin once you can use it for the lifetime.
Actual Price: $29
Discounted Price: $19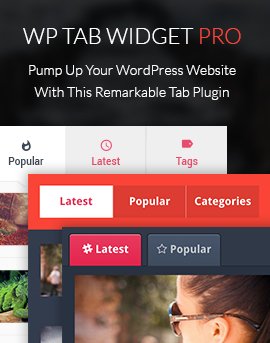 It works.
100% Success
It doesn't!
Conclusion
WP Tab Widget Pro is a great plugin which allows you to integrate highly customized and interactive tabs to your website. You can show popular posts, products, custom content, popular posts by views, popular posts by comments to the users. You can also add shortcodes to customize the plugin. The plugin is a value to the money.