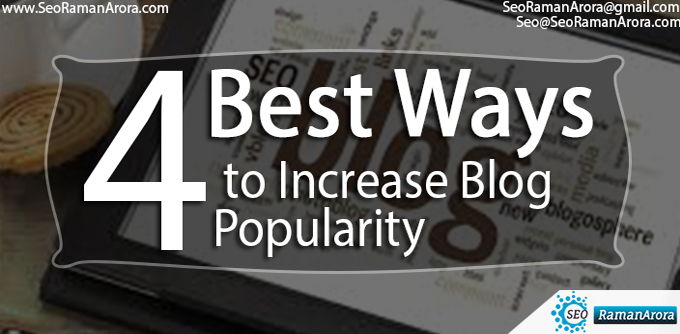 4 Best Ways to Increase Blog Popularity

As a blogger, I always try to look for something new for my visitors. Every time I tweak, I learn something new. Previously when I was looking for different tactics to increase my site traffic, I came to learn 4 Best Ways to Increase Blog Popularity which works well with my blog. So, I thought to share these tricks with you so you can also increase the popularity of your blog.

Every blogger try different strategies to make their blog famous. It is not easy to make a blog famous. You have to do many efforts for making your blog popular because of the high competition of blogging.
Are you looking for different ways to increase your blog popularity?
This article is for you. However, there are a number of ways to take you blog to the next level which can bring a ton of traffic on your blog but not all the ways are genuine. You have to be very careful while trying different tactics on your blog.
Related Article:
Today I am going to tell you about 4 Best Ways to Increase Blog Popularity in this article. If you will adapt these tricks to make your blog popular then I assure you will get success.
Without further ado, let's discuss Best Ways to Increase Blog Popularity one by one.
4 Best Ways to Increase Blog Popularity
Make your Blog SEO Friendly
Search Engine Optimization (SEO) is way to optimize a blog according to search engines. It also helps to improve your site ranking in search engine results. Moreover, it increases visibility of site or blog in organic results. So, make your blog SEO friendly to increase ranking and visibility of your blog. Try to use long-tail keywords in your blog post to get great results. So you also use Keyword Research Planner or SEMRUSH to find best long-tails keywords for your blog. It takes time to optimize your blog but it pays off in long-term. It is one of the best ways to increase your blog popularity.
Check These Out:
Write Tutorial Articles
The articles related to current news or affairs are not long-lasting. Most of the people read articles which solve their problems and provide answers to their question. Also, most of the entrepreneurs and newbie bloggers read tutorial articles. So, I will recommend you write and pots 'How-to' and tutorial articles. These types of articles will bring more traffic to your site and help to engage your visitors. This will add a great credibility to make your blog famous.
Make Videos of your Articles
Visually appealing content always works best for increase blog popularity. Nowadays, people are more likely to watch videos before try something new. Whenever you write how-to or tutorial articles, make videos of them. It will really help your visitors to solve their problem. Post the videos with the content, this will make your blog more visually appealing. As you already know, YouTube is second most popular search engine. People usually try to find the practical solution of their problem through videos.
You can also create your own YouTube channel such as i created my YouTube Channel with the name SeoRamanArora and post videos on your channel. Also, add the link of your YouTube channel in the header or footer section of your blog. This is an effective way to attract new visitors on your blog and making your blog popular.
Create and Post Engaging Content On Social Media
As you know, Social media has become a biggest platform for promoting a business. There are more than millions of users who always keeps in touch with social media. There are popular social media networks such as Facebook, Twitter, Instagram, LinkedIn, Tumblr and many more. People started advertising their business or services on these platforms. This could be the best ways to reach to target audience and make a blog famous all over the world. Try to create and post engaging content on social media. If you post engaging content on social media, your blog will become viral. It will boost the popularity of your blog.
Also Check Out:
Wrap-Up
There are various alternatives available online to boost popularity of a blog. I have listed 4 Best Ways to Increase Blog Popularity. If you will try these tricks on your site it will really work for you. So, go ahead and try these out. Let me know which techniques works best for making your blog viral. If you want to ask me any question, feel free to ask in the comment section.
Do you like this article?
Don't forget to share with your friends on Facebook, twitter, Instagram, LinkedIn, Tumblr and subscribe to my YouTube Channel.