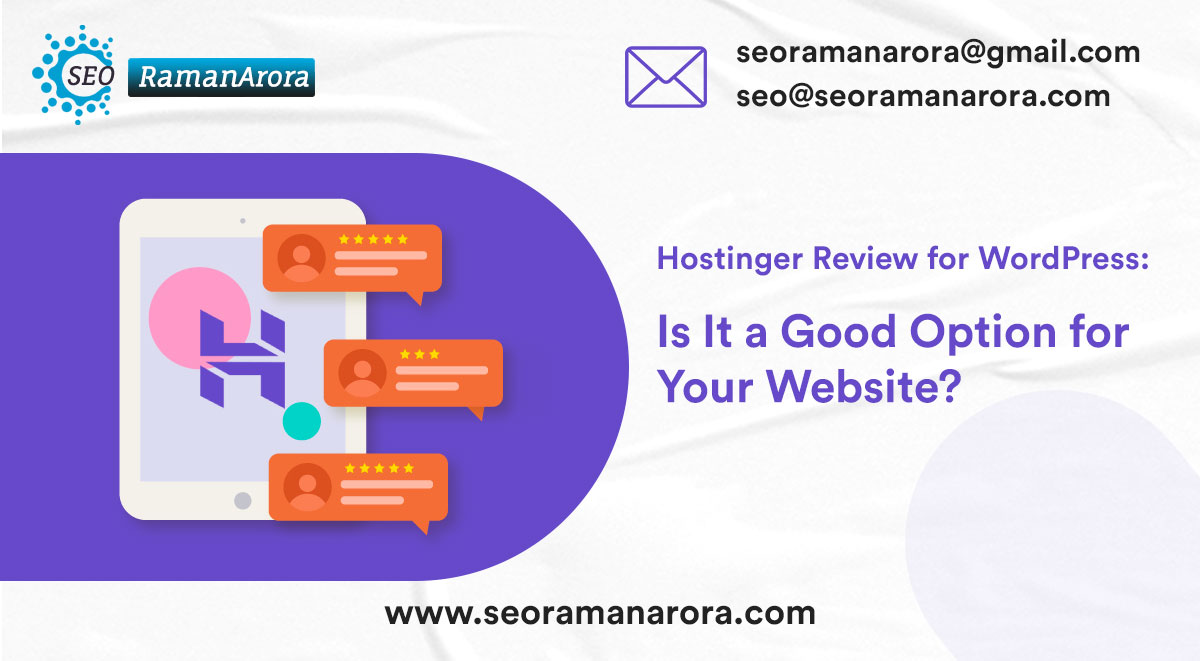 Hostinger Review for WordPress: Is It a Good Option for Your Website?

Are you looking for hostinger review for WordPress? Let us start with understanding what Hostinger is, its features and then conclude based on its review.

Since its founding in Lithuania in 2004, Hostinger has grown from 25 users to one million users. With over 29 million users, the company and its affiliates now serve more than 10,000 new customers every single day. Hostinger has expanded to include a number of subsidiary companies. 

The fact that so many people trust them is an indication that they must be doing something right. Hostinger is a great option if you're looking to get a website up and running. You cannot always choose the best web hosting company as it seems, but choosing the right one is crucial to your website's success. 

Our Hostinger Review for WordPress has been compiled to help you make your decision easier.
Features Of Hostinger 
To understand in detail, we are starting with the features of the Hostinger.
Let's examine some of the plans Hostinger offers as a starting point for this hostinger review for WordPress. Here, you can pick from a range of plans, including shared, cloud, virtual private server (VPS), and dedicated.
Also, the WordPress-specific plans come with one-click installation and a variety of support options. They're low-cost, shared plans – ideal for multiple types of websites. Additionally, you can select from single, premium, and business plans. However, if you're using WooCommerce, the business plan is recommended.
If you're thinking about getting a shared plan for your site, Hostinger can help. The following is a shortlist of its features:
An entire team of WordPress experts that are available 24×7 to support your website in 20+ language

Installation of WordPress with one click

Includes a free domain name

Daily backups and free SSL certificates

Access to practically unlimited bandwidth
Hostinger's WordPress plans come with an impressive set of features. A new website owner will find everything they need from Hostinger. This guide of hostinger review for WordPress can help you decide if Hostinger has a suitable plan for your website.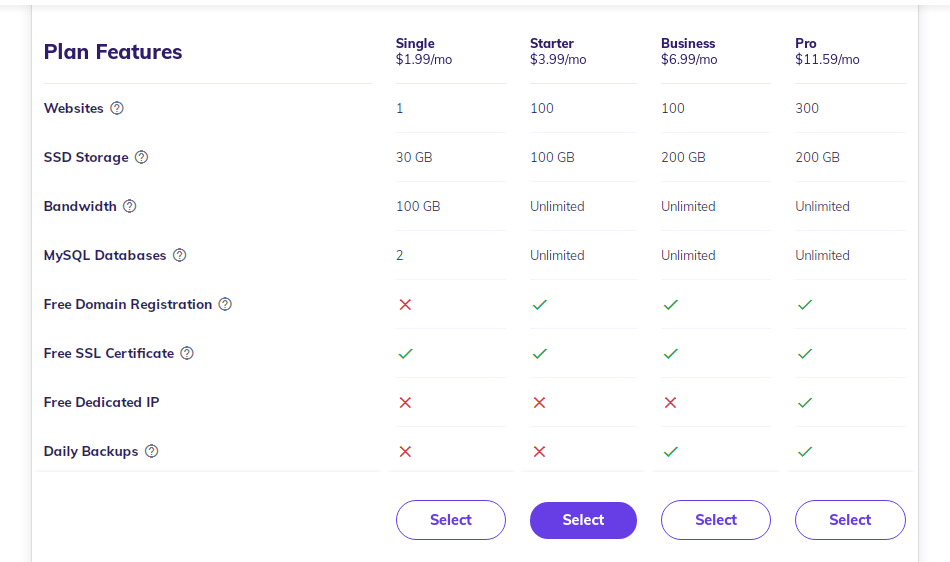 A few of Hostinger's most noteworthy features are listed below.
Why You Should Use Hostinger Web Hosting
Decent Uptime
In the initial stages, cheap web hosting might seem attractive. You shouldn't take this route if the uptime rates you achieve will not be adequate.
The Hostinger uptime rate isn't the highest, but it isn't the lowest either.
In most cases, we expect web hosting services to offer 99.9% uptime over the course of one year. Some months have been when Hostinger has been higher than 99.8%, and some months when they fell below 99.04%, which most definitely affected their average. Nevertheless, the 100% uptime for a few months saved their average.
It is important to balance the cost with your needs. The downtime of 10-14 hours in a year won't harm you if you have a small personal website with minimal traffic. In contrast, if your site is for business, you'll need slightly better rates.
In general, Hostinger's uptime rates are sufficient for getting most small websites up and running.
If the price is so reasonable, it might seem that quality is being sacrificed. Hostinger does not have this problem.
Their speeds are among the fastest available at their price point.
A server response time of 43 milliseconds is stated on Hostinger's website, which is very good. 

On average, loading times should range from 300 to 400 milliseconds. The industry average page loading speed is about 900 milliseconds, so Hostinger means that number is pretty much halved. It's still a decent deal for the value.
Hostinger offers 30 days of money-back guarantee if you're not satisfied with their services.
This should be an excellent deal for anyone on the fence. A 30-day free trial of web hosting is essentially what you're getting.
Generally, web hosting offers a 30-day money-back guarantee. The majority of providers will give you at least this amount of time to change your mind.
Web hosting companies should provide good customer support to their customers.
Take a moment to reflect. Crashing your site can have a negative impact on your bottom line. To fix that problem as quickly as possible, you need to contact someone by phone or email.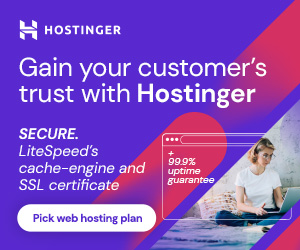 Hostinger offers instant access to customer service representatives, though getting in touch in an instant isn't a priority for small blogs. Nevertheless, it is still important.
Whatever the situation is there with your website, it is nice to know that Hostinger offers a live chat service that is convenient and quick.
Also, Hostinger's website offers self-help guides in the form of knowledge base articles. If you end up choosing Hostinger, consider using those sites as resources.
Free Domain and Website Builder
With every Hostinger plan, you get a free domain and a free website builder. When you're starting from scratch, this is a great option. This is also a good resource for beginners.
You can build a website with ease using its drag-and-drop functionality without any coding or web development experience. 
There are also many excellent templates you can use as a starting point.
The all-in-one solution is a welcome addition, especially for those who want cheap web hosting. Hostinger takes care of your hosting needs.
Even if you have no experience managing a website or with web hosting, you will find the Hostinger administrative dashboard easy to use.
It's easy to find everything because everything is clearly labeled.
Here you have access to any installed software, such as WordPress.
With Hostinger, you can manage your device settings, upgrade your plan, change your domain, and change your email address. To make sure you have a plan that meets your website's needs, you can even check your usage statistics.
Several unlimited plans are available on Hostinger.
Using the Premium and Business shared hosting packages, you can upload unlimited data, install MySQL databases, and create unlimited email accounts.
For this reason, higher-tier plans are recommended over entry-level plans. It is absolutely worthwhile to pay a few extra dollars a month to be able to access unlimited and freebies-especially if you are hoping to scale your business soon.
It is cheap to host on Hostinger. Throughout our research, it has consistently been the cheapest hosting option.
The shared hosting plans at Hostinger begin at an incredible $1.39 per month. Signing up for a 48-month contract is required to lock in these low monthly rates. It's a higher upfront cost than a monthly payment, which is why some people aren't willing to do this. 
You can do the math. When you're paying $1.39 per month for four years, you'd simply spend less than $70 on hosting. Even with budget-friendly hosting services, that's less than a single year of hosting will typically cost.
BUY NOW
When you renew your contract, you can expect your rates to increase a little, but not much. After the initial four years at $1.39/month, Hostinger's Single Shared Hosting will renew for $2.99/month. Throughout the web hosting industry, this is a pretty common practice.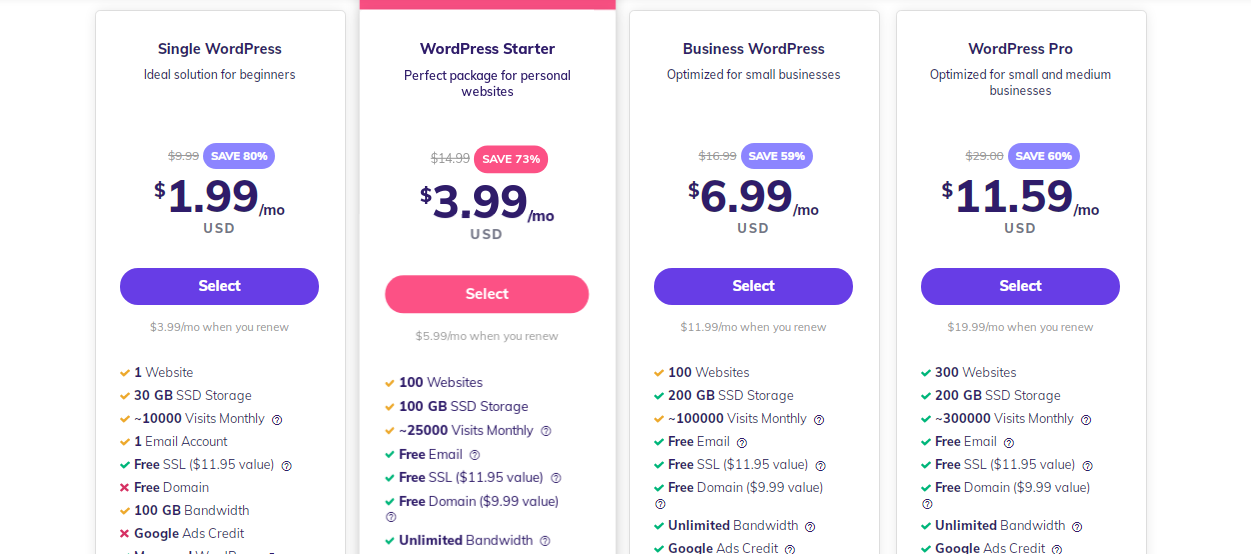 The Verdict: Hostinger as a Web Host, Is it the Right Choice?
In our testing for the hostinger review for WordPress, we played around with the features and got a good idea of Hostinger's web hosting services, and we must say that Hostinger is a solid host in terms of building and growing a website.
The user interface of their web host is user-friendly, they offer one-click installations for WordPress (and other popular apps), and their server response times are competitive with those of our top-tier A+ web hosts.
Their support team is outstanding, doing their service incredibly beginner-friendly! They are happy to guide you step-by-step using their "zero-tier support" system if you face any issues.
It is found that Hostinger's speed and performance are comparable to premium web hosts for at least half the price. As a result of Hostinger's global coverage, our top recommendation covers websites in more than a dozen countries like India, Singapore, and Australia.
Hostinger won't make you worried about a thing if you're just starting out or wanting to dip your toes into the blogging world. Combining the quality of their services with their extremely low prices makes them the most affordable host you can find. The option to upgrade to premium features will always be available to you if you find you are not getting enough in the future.
It works.
100% Success
It doesn't!
What is our recommendation for hosting with Hostinger?
After a detailed hostinger review for WordPress, we would definitely say yes to Hostinger for your website hosting.
Providing cheap web hosting solutions for businesses, Hostinger is a trusted name in the industry. One of Hostinger's advantages is that you can build any type of website you want, regardless of how big or small it is. In our opinion, for hostinger review for WordPress, the hosting service allows your website to get up and run and scale as it grows. It offers a strong support system and assistance for those who are new to building websites and those who are experienced at building websites.