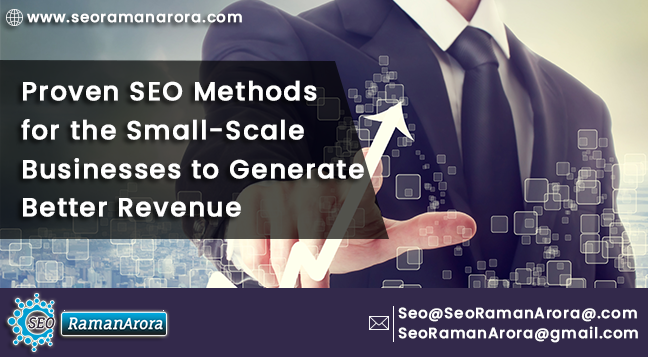 SEO Methods for Small-Scale Businesses to Generate Better Revenue

Generating business revenue is not the easiest thing to be done, as different businesses have to put different kinds of marketing strategies behind the revenue generation process. Business marketing is the key for generating revenue. You may produce excellent products, and you may have terrific services to offer to the clients. However, all these things are meaningless, until you have excellent business marketing or promotion plans. For business marketing, SEO is important. A few simple yet proven strategies for SEO can make your business marketing campaign more revenue fetching. In the following section, those plans are discussed in detail.
Link Building Process
The process of building backlinks for the website should be done with precision. To build the backlinks, you need to follow a few simple tricks. Here are those tricks at a glance for you:
To start with backlink building process, you need to focus into the quality link building process. To focus on the quality, you need to find good websites from where you can get your backlinks. Link exchanging with the website owners is a good idea, though paid link exchanging with worthless websites can lead to a disastrous result.
The link building process can be done with good articles which have been written with perfection. Articles have to be poised with a good number of keywords. Nevertheless, the keywords are required to be inserted strategically. The article should be well written and informative otherwise the backlink will have low value for the search engine.
When you are getting a backlink for the website, you need to make sure that you get the links from good as well as ethical websites. Getting links from ethical websites is the key to get better ranking in the search engine search page results.
For backlink building, not just article marketing you need to focus on the other strategies. It is important to know different strategies to make the article marketing process seamless. Make sure that the link building process remains effectual and flawless otherwise it would not have a positive impact on the SEO campaign.
On Page SEO of Your Website
Before you move on to building the backlinks for SEO, you need to make your website SEO friendly. This is the primary step to be followed by SEO marketers and business owners. You have to be careful with the process of on-page SEO as it can be a little complicated to deal with.
On page, SEO focuses on various aspects of the website and puts efforts to make the website friendlier for the search engine. Google and other major search engines prefer the websites which have the following attributes:
The website should be poised with well-written content and images. It should be infused with proper keywords. If the website does not have good content or relevant content, it would not be considered as friendly for the search engine.
For on-page SEO, keyword density of the website content is important. High keyword density looks spamming and on the other hand low density of the keywords will not create the much-needed exposure for the website. So, a balance in keyword density is required. To bring the balance, content has to be crafted with perfection. The content should have all the necessary keywords infused in it properly.
For effective on-page SEO, you need to focus on a few more things. The most important is the website alignment as well as structure. You need to make sure that the website has been structured properly. The website should be poised with proper alignment and design. It should not take a lot of time for loading.
To make the website to load quickly, you should avoid using large images for the website. Using high-resolution images will cause slowness of your website loading process. Nevertheless, you need to host the website on a good web server so that the loading process does not get slow.
For on-page optimisation, responsive website designing is the latest trend. For responsive website designing, a business owner or website owner has to find an expert.
Organized and Planned Approach for SEO
For the SEO campaign, you need to focus on making the process well organised. If the process is not organised, you may come across a lot of problems. For example, you may face different kinds of issues or problems. In many cases, the campaign would not fetch the desired result. You have to shift your strategies when it comes to dealing with the SEO approaches. If certain methods are not working, you need to switch to different methods. Well, the process will not be easy, if you approach for SEO is not well organised as well as perfectly planning. Good planning is the key for fetching good SEO results.
Leave Things on Time
SEO results would not show up overnight. It is a constant process, and thus it has to be planned as well as managed properly. Leaving the things on time is the main thing here. You need to have patience with your SEO strategies and approaches.
If you consult Sydney SEO expert, you shall come to know that it would take 3-4 months to show up real SEO results. Depending upon competition and your website as well as an overall SEO strategy, the time you need could be more than what is mentioned above. It could be more than six months. In many cases, website owners start getting positive results in only 2 months or lesser than that time frame.
Related Articles:
Conclusion
At the conclusion Small-Scale Businesses to Generate Better Revenue, it has to be stated that dealing with the SEO campaign is not a simple thing. You need to focus on various things. From making the website more SEO friendly to making the website to appear smarter with properly crafted contents, SEO is a huge thing. So, you need proper guidance or mentorship of the experts. Outsourcing the SEO campaign is a good idea, as it ensures effective as well as cost saving.