Some Basic Tips for WordPress Beginners!

Are you new to WP platform? Things could be difficult for you without going through a beginners guide to wordpress website! All that seems easy at the front may not be that easy on WP. To help you get started without missing anything that's crucial, here are quick wordpress.com tips. These beginners' tips will make things working for you as you explore WP to implement your business ideas. It's not the greatness of WordPress that will help you achieve outstanding things but your efforts that will make things working for you.
Let's explore wordpress tips and tricks 2016 that will turn things in your favor. As a novice on WP, you might not want to get yourself struggling as you are new to the platform. But don't worry as after implementing these tips, you would be clearing the hurdles in no time. Take a look at these essential WP beginners' tips below:
Some Basic Tips for WordPress Beginners
Don't Treat WordPress Sidebar As Your Hall Closet!
Consider WordPress sidebars more or less similar to your hall closet which usually stays stuffed with many tools that may come down tumbling to your head if not managed properly. WP sidebars are stuffed in the same way with ads, social media logos and tweets that you want your visitors to click. But they often miss out those as they don't find them easily there.
Looking for a solution for this? No worries, this beginners guide to WordPress website has a solution to deal with this situation. It lies in narrowing down things and putting only that stuff which is absolute essential. To do so, remove everything that seems unnecessary in "Appearance & Widgets" section in your WordPress! Keeping a widget on your sidebar doesn't make sense if it is not helping you gain followers or making you money!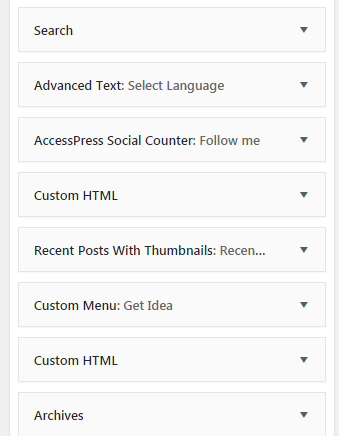 Help Yourself Locating Things Easier In WP Media Library!
Imagine having a library at home, where your books are placed in separate rooms tagging them by the months in which they were acquired. Sounds strange, right? Eventually, you would end up miserably walking and locating things here and there. The same logic applies to media library in WordPress. Just make the folder where you keep your all media does make a sense. Things would be easier to search if you tag the media with appropriate keywords every time. To do so, go to settings & media section and uncheck the button that says "organize uploads into month and year based folders".
Synergize Images With Relevant Keywords!
No doubt, images create interest in users. But do you know that they can help you rank on search engines if optimized for SEO? By putting keywords in your Image's title tags and ALT tags, your image can work wonders for you in enhancing your site's online visibility. So, don't forget to use optimized images with relevant keywords next time.
Conclusion:
Following these wordpress tips and tricks 2016, you would be able to make WordPress work for you in the right way. Remember a right start is half the job done – be it the WordPress or any other initiative in your life. Having knowledge ahead of trying things with these wordpress tips would help you foresee the pitfalls at an early stage. These beginners' tips might have increased your knowledge base by now. It's time to get started with the WordPress today! For more Details Continue your reading with this article Brilliant Tips to Create a Website Using WordPress
There are numerous themes available, you can try. one WordPress theme is available at below, please check
Related Articles:
Please Like, Share, Comment and Subscribe our Youtube Channel for More updates !