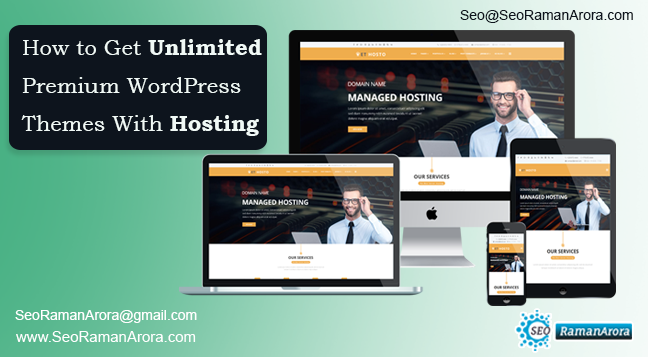 How to Get Unlimited Premium WordPress Themes With Hosting

To find the right theme for the website can be head spinning and confusing. It can be a fun task too. If you do have a premium plan in the WordPress hosting, you can Get Unlimited Premium WordPress Themes With Hosting. There are over 200+ premium themes on the WordPress.com and they are adding new themes regularly. WordPress.com has the best premium themes so that you can get new and unique themes to choose from.

You can select the theme that matches the style of your website. The new addition to the premium plan gives you the opportunity to try great and premium themes that make your website stand out.

Check Premium Plans of WordPress
Purchasing a Premium Theme
When you purchase the premium business plan, you can switch to any of the premium themes at no extra cost, as many times as you would like. Without a premium business plan, you can purchase the premium themes individually. WordPress is a collection of beautiful as well as amazing themes. The themes offer attractive designs, customization options, and customer support.
Where you can find a Premium Theme
There are two places where you can find out the Premium themes. One is WordPress.com theme showcase which is there in the WordPress.com homepage. On the theme showcase page, you will find the detailed information about the special features that each theme offers along with a link to a demo website so that you can get a feel of the website.
If you are on the home page, you can see all the premium information under the themes by clicking on the Premium link in the drop down.
How to get a Premium Theme
From your home page, you can navigate to the Themes and click on the Premium links. There, you can see a familiar grid of all the available Premium themes.
You can also preview the theme and see how the theme will look on your website by clicking Preview – Try and Customize. The purchase button will appear at the top and you will be presented with an upgrade screen where you can purchase the theme.
You can also purchase and activate from the WordPress.com Theme Showcase. You will get the option to choose for which website you would like to use the theme for. If you want to purchase the theme for multiple websites, you will have to make a separate purchase for every website.
When you purchase a premium theme, it is available for a lifetime for that blog. But sometimes, WordPress may decide to retire a Premium theme because it has become outdated. If that happens, you can continue to use the same theme as long as you like. But if you change the theme to another theme, you cannot get that theme back.
If a Premium theme does not work out, WordPress.com offers a full refund for up to 30 days from the purchase. You can cancel a purchase and obtain a refund by clicking on the cancel button on the Purchase page. You can always switch from one premium theme to another free theme. WordPress is adding more and more free themes all the time.
Premium Theme Support
WordPress.com gives you access to distinctive features and a stunning design if you purchase a premium theme from WordPress.com. It also gives you the access to the dedicated support on WordPress.com forum. Here, you can get customization tips for the theme. Only the site owners who have purchased a theme can post and reply there. However, it is visible publicly to anyone.
It works.
100% Success
It doesn't!
Related Articles:
Summary
I hope, now you know how to get unlimited premium WordPress themes with hosting. So get access to unlimited themes to your websites with WordPress.