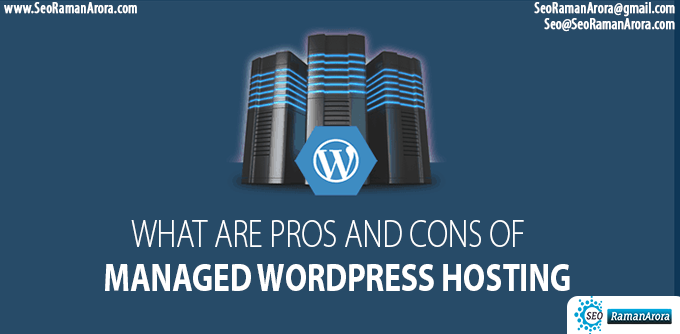 What are Pros and Cons of Managed WordPress Hosting

Hey, do you want to shift your WordPress website to Managed Webhosting?  First of all, you should know about Pros and Cons of Managed WordPress Hosting. If you are new and have no idea about managed web hosting the so you should learn about managed web hosting, advantages and features you will get with them.
Check Out:
We all know, Every coin has two aspects. Similarly, there are Pros and Cons of Managed WordPress Hosting. Besides, there are many people who go with Managed web hosting. Because there are no limitations for managed WP hosting. But there are some tips which should be kept in mind for the technology freak people. It is a suggestion that all the business and blogger websites should be hosted on the managed WordPress hosting. However, There are some Pros and Cons of Managed WordPress Hosting which you need to know.
Let's discuss Pros and Cons of Managed WordPress Hosting one by one.
Pros and Cons of Managed WordPress Hosting
Managed web hosting is a service which takes care everything related to the WordPress. Moreover, It is very difficult to handle to manage WordPress Platform. Additionally, Plugins and Themes should be kept regular updated. A Managed WordPress hosting service provider takes care of such things. This provides you with the time to focus on something else.
Speed Optimization: The loaded speed of a website is very important. You can definitely lose your traffic if your website is slow. Therefore, it is service provider duty to take care of loading speed of the website page. For this purpose, they can install recent caching plugins for speed optimization. Most of the hosting providers enable caching plugins for speed optimization.  
Being Update: Every time your website is updated according to the need by paying to the management service. Whenever an update is released your website will be updated automatically. Additionally, Plugins are also updated and test before up gradation. It simply means that they test the compatibility of the plugin before they make the update. Moreover, you don't need to worry about updating your blog; you have your personal butler to take care of it.
Backups: God Forbidden, Your website has some technical issues and you lose all your content. There is no doubt in it if your website is running on the bad host your data can be erased easily. Besides, This also saves on your money if you use paid services like Vault Press to take your backup. As managed hosting backup will ensure if something goes wrong on your site, you can quickly restore to previous working state.
Support: Standard Shared hosting support team might not provide you complete help regarding issues arose in the website. On the other hand, managed web hosting provides complete help and they have complete knowledge about your platform. Thus your money won't be wasted. 
Save Time: There is no need to spend a lot of times to understand how the platform works because everything is handled by the managed hosting team.
Limitations of Managed Web Hosting
Costly: This hosting is for business purpose, therefore, it costs you money. It can start from $30 per month to some hundreds of dollars a month. Moreover, It depends on how much management you need.  Besides, You will also have to pay extra if your post goes viral.

Less Control: In this service, you don't have full control as everything is under control of management team and they will decide what should be updated.






In the nutshell, we can say that every coin has two sides. Although managed web hosting provides excellent services but it is costly also.
These are some Pros and Cons of Managed WordPress Hosting. You should consider these before you move to Managed WordPress Hosting.
Related Articles:
Final Words
I hope you find this article "Pros and Cons of Managed WordPress Hosting" informative. If you want to ask anything regarding this post, don't hesitate to ask in the comment section.



Do you like this post?
Share this post on social media. You can also join me on Facebook, twitter, Linkedin, Google+ and Youtube Channel namely 'SEORAMANARORA'.