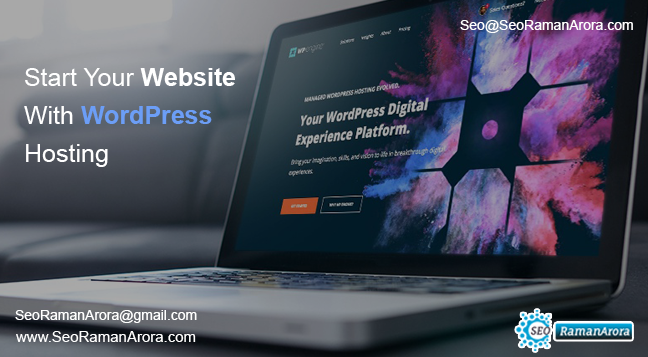 Start Your Website With WordPress Hosting

WordPress.com is an amazing platform to build beautiful, secure, mobile and SEO friendly websites. WordPress has gained so much popularity over the past few years as it has eased the process of website development. Anyone with little to no knowledge of WordPress can create a website using WordPress. Start Your Website With WordPress Hosting and Get Unlimited Premium WordPress Themes With Hosting

Check the Plans of WordPress Hosting 

You can also enhance the functionality of the website using various plugins and themes. Also, there is a huge WordPress community of developers. There are many rich features that WordPress hosting offers.





Features
Let us have a look at the features of the WordPress hosting
Easy to Use: Creating and managing the website with WordPress.com is simple. You can get started in minutes and can start making your website.
Domain Name: Register with your unique domain name like .com, .org, .net and start using it immediately. You can easily map your existing domain name to WordPress.com domain name in a few easy steps.
Stunning Design: You can find a unique style for your website. WordPress.com offers plenty of themes to choose from.
Mobile Friendly: WordPress provides responsive and mobile friendly themes. WordPress makes sure that your website looks good on the mobile devices.
Customer Support: WordPress has round the clock customer support. You can get support via email, chat, voice call and get your queries answered.
Powerful Statistics: WordPress provides you a powerful statistics for your website. It allows you to learn more about your readers. You can see where they are from and from which region, you are getting the most traffic.
Plans according to budget: WordPress hosting allows you to create your website for free. However, it has many limitations. You can update your plans according to the budget and buy additional storage and functionality.
Optimized for growth: WordPress consists of Jetpack essential feature built in that includes statistics, SEO, and social media sharing.
There are 3 plans you can choose from:
Personal Plan
The personal plan will cost you INR 200/month which is billed yearly. This plan is best for personal use. You can boost your website with a custom domain name and remove all the WordPress.com advertisements. You can get access to the high-quality email and live chat support.
Premium Plan
The plan will cost you INR 350 per month billed per year. The plan is best for the entrepreneurs and freelancers. You can build a unique website with the advanced design tools. Also, you can get a lot of space for the audio and video. You can also monetize your blog with advertisements.
Business Plan
The plan is best for small businesses. The plan will cost you INR 800. You can enhance your business website with unlimited premium and business theme template, Google Analytics support, unlimited storage and the ability to remove the WordPress.com branding.
You can make a payment for any of your WordPress.com plans, add-ons and the domains using any of the major credit card, debit card or PayPal. Purchases made on WordPress.com can be cancelled and refunded during the refund period. You can also choose to unsubscribe at any time if you don't want to renew your subscription.
Also, you can create the blog in another language. You can change your blog language which is how your readers can experience your website and the interface language. The language you want to see on the blog is completely up to you.
You can also make money online with your website. Also, you can sell individual items on the blog using PayPal account. Publish the affiliate links, sponsored posts in your advertising program. You can import the content from a variety of other blogging platforms. You can also import the content from a self-hosted WordPress site.
It works.
100% Success
It doesn't!
Related Articles:
If you too are looking to host a WordPress website, you can go for the WordPress hosting program. It is the most reliable and user-friendly platform to host a WordPress website.