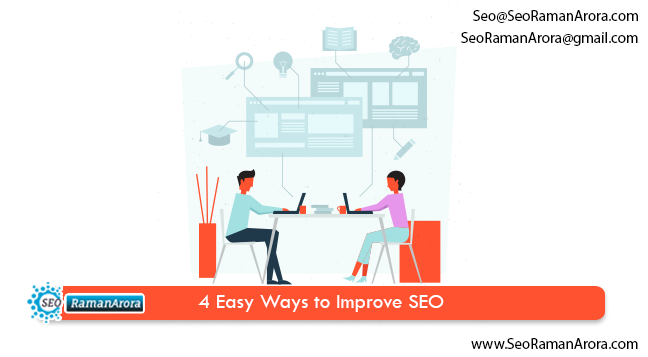 4 Easy Ways to Improve Your SEO

Own a business? Odds are you'll want to improve your SEO. No matter how good your SERP standings, there is always room to grow. There are 4 Easy Ways to Improve Your SEO, so your website will get higner ranking. But no matter what your brand image, or business strategy, there are a few quick and dirty SEO tips that you can implement today to give your site a leg up over your competition. With that, here are 4 easy ways to improve your SEO.
4 Easy Ways to Improve Your SEO
1. Meta Data 
Be sure that the meta data for your pages and images is fully optimized. These include your H1 tags, title tags, meta descriptions, alt text, and so on. Each of these fields should be used to its fullest. Google has, earlier this year, more than doubled the character limit for meta descriptions in particular, so now's a great opportunity to refresh those descriptions with your top-performing keywords. Think of them like little mini-blog posts, making them informative and compelling.
Don't discount the value of image search, either. If you've added keywords to the appropriate fields in the meta data of your images, your pictures might be the first point of contact for a new customer or client. While you do want to avoid stuffing keywords artificially, or excessively, the longer meta descriptions, especially, do allow for multiple keywords to tag a single web page. So long as they're relevant, go wild with keywords and phrases. Anything that might help connect a potential user with the right piece of your content should be a safe bet. 
2. Backlinking 
A robust link network has always been the core of a strong SEO foundation. While the relevant algorithms have evolved somewhat from their early iterations, backlinks are still highly influential in establishing a site's domain authority (the primary factor which fixes a site's place in the hierarchy of search results.)
When Google was developed, those rankings depended entirely on backlinks. A site which was more interconnected, or a more common node in the wider network, would outrank a site which was more peripheral on that network, with fewer connections. In simplest terms, the algorithm would give a site a score, which charted the probability of stumbling upon that page just by following random hyperlinks.
So, when considering your own network, links from pages which are, themselves, highly interconnected will tend to be more valuable than links from pages which are not so enmeshed. That interconnection isn't the only factor, but it's still the biggest indicator of a site's authority, which is sort of shared-by-association as your backlink network flourishes. 
3. Mobile Optimization
These days, a majority of people do most of their browsing, and consume most of their content on mobile devices. For many, a mobile device is a person's only device. Many people have no need of a full desktop platform, anymore. For years now, Google has officially been pursuing a mobile-first agenda, and you should be too. Your site should be fully optimized for mobile devices. That might include a dedicated mobile version of your site, but more likely you'll be leveraging responsive design, to dynamically rebuild and alter page elements for different platforms or screen resolutions.
However you accomplish it, your site will need to be fully optimized for mobile devices if it's to remain competitive in the 2018 SEO landscape. 
4. Quality Content
At the end of the day, what Google wants most is to deliver the best content to the right audience, ideally on the first try. It wants to be efficient, unobtrusive, and effective. The very best thing you can do is to produce the highest quality content.
Over the past four or five years, Google has been doubling down on natural language parsing, trying to evaluate semantic relevance, readability, and other metatextual factors. Those algorithms which evaluate a page's quality are getting better and better and interpolating the real quality of the content is crawls, as it would be experienced by a prospective user.
Colibri Digital Marketing have established ourselves as the SEO experts with the experience and the tactics to help any business thrive. A common refrain for us at Colibri Digital Marketing has been "Content is Queen." By that, we mean that, when it comes to digital marketing, it all begins with the content itself. Your best, first step for improving your SEO is to just keep producing amazing content. Next, make sure that your content is tagged, crawled, and linked to increase its visibility. That should put your site on the path to better SEO, and digital marketing success.
Related Articles:
Conclusion
In this article, we discussed Top 4 Easy Ways to Improve Your SEO. Use these techniques on your website or blog and you will definitely witness the improvement in the ranking of your website. To get at the first page of the search results, you need to have patience. Be patient and persistent in your approach. Also, try to implement new techniques for improving the ranking and note which technique worked best for you.
If you like this post, share this on social media. You can also follow me on  Facebook, twitter, LinkedIn, Tumblr and subscribe to my YouTube Channel.