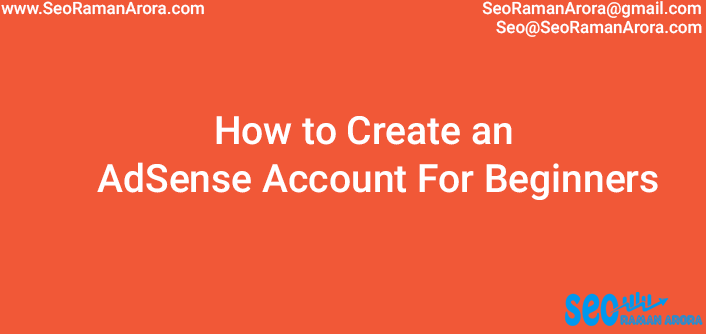 How to Create an AdSense Account For Beginners

If you are looking for ways to earn money online free of cost, there are many alternatives for that such as affiliate marketing and other advertising programs. In this blog, we will talk about earning money by using AdSense.






AdSense is a Google's product which is a great advertising program to display contextual ads on publisher's website. It allows publishers to earn money if anyone clicks on ad.
If you know more about it, then Google AdSense Account For Beginners is given below:
You must heard about AdSense if you are trying different ways to make money. But some of you might still do not know how to set up AdSense Account For Beginners.
In this blog, I will tell you how you can create or setup an AdSense account. Google may take some time to approve your AdSense account. There are basically three steps for account creation
There are some steps which need to be completed while creating an AdSense account. These steps are given below:
Sign-up for AdSense account on Google AdSense official page through your Existing Gmail Account.
          (https://www.google.com/adsense/start/)
When you will click on this link, you will see Google AdSense Homepage. You will see a signup now button on that page you have to click that button.
After that, you will be directed to next page 'WELCOME TO ADSENSE'
You can see image given below
You will see three steps which need to be completed for creating AdSense account:
Your Account – Here you will need a Gmail account for creating AdSense account. You will get the option of creating a new Gmail account for your AdSense or using the existing one.
I will recommend you to use domain specific email account. If you do not domain specific email account then I will suggest you to create a new one specific to your website domain.
Your Website – This is very simple as you can see. You just need to fill your website URL in 'My website' field. Make sure you do not include 'http://' in your website address. You have to select primary language of your website in content language field.
Your Information – This is last step 'Submit your AdSense Application'. Here you have to fill your contact information like Country, Time Zone, Account type, Payee Name. Street Address, City or Town, State and Postal Code.
Fill your information very carefully. I will suggest you to choose business type very carefully, it cannot be change once your account is created. Payee name is also very important; you also can not change it later. You have to fill same name under which you have bank account because AdSense will send you payment under this same name.
Here you will also see AdSense policies in the end. You have to read this very carefully. You have to mark these checkboxes to accept AdSense policies.
Click on 'Submit Button' after filling all information and by clicking on Submit button you can review your application.
Once you review the application information, Google will send you a code. You have to place that code in your blog or where you want to place to ad. When you will add the code, Google will review your application for AdSense account. It may take few days for approval of your account. Your account will be activated once you received AdSense Pin.
You have to fill some information such as Tax information and AdSense Pin to activate your account and start receiving payment. You will get an AdSense pin when your earning will be reached to $10.
Now you have to fill your tax information and this AdSense pin in order to get your account activated. Your tax information will be specific to how your are conducting your business. Moreover, You have to fill tax information form and enter AdSense pin by signing in your account. When your payment will reach up to $100 then Google will send you payment either by cheque or EFT.
Hope you get the required information for creating AdSense account.  If you have any query regarding creation of account feel free to ask in comment section.
If you like this post, Comment or Share on Your favorite Social Media Account. Join us on Facebook, twitter, Linkedin, Google+ and Youtube Channel.