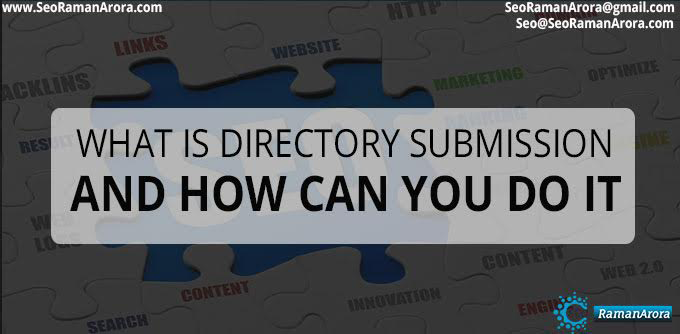 What is Directory Submission and How Can You Do It

Hello Friends! I hope you're doing well. Today I came with a new topic "What is Directory Submission and How Can You Do It".

Whether you are a novice blogger or running a website you must know about SEO and how to increase blog traffic. SEO is basically a technique to increase the ranking of a site in search engine results. There are mainly two techniques of SEO, On-Page SEO, and Off-Page SEO.

You must use different SEO techniques such as Guest Posting, Blog Posting, Article submission, classified Sites submission and much more to boost the ranking of your site. Directory Submission is one of the techniques of Off-Page SEO.






Check Out:

So, I will tell you everything about Directory Submission and how can you do it increase the ranking of your site.

Let's start.
What is Directory Submission?
A web directory is a directory of World Wide Web. Additionally, it is the collection of high PR websites which are arranged in different categories and subcategories. The process of submitting your website link to the web directory is called Directory Submission.
Additionally, it helps to bring high-quality backlinks for your site which increases site ranking.
So if you want to get backlinks for your site then you have to submit your website or blog in web directory in suitable category or subcategory with some details.
More you get the backlinks more you will receive the site traffic and increase site ranking. Furthers, it improves SERP ranking of your site.
Related Articles:
Types of Directory Submission
There are basically three types of Directory Submission which are as follows:
Free Listing
In the free listing, you can add your blog in directory submission sites free of cost. Also, this is the best among all because does not like paid listing. Moreover, you will get genuine high-quality backlinks from free listing websites.
Paid Listing
In paid listing, you have to pay money to web directory to submit your blog. Besides, you get instant approval in paid listing. But I will suggest you 'don't buy paid backlinks' because Google does not like paid links. Moreover, you can get the penalty by Google.
Reciprocal Listing
In this type of submission, you have to add the link of web directory in your site. When you add web directory in the link in your blog/site then they will also approve your blog in their directory.
Read & Learn
How to Submit Your Blog in Directory Submission
It is very easy to submit a blog in directory submission sites. I will tell you a simple way to do that which will increase SEO value of your blog. You just need to open notepad on your computer and write down details such as:
Blog/Website Title
Blog/Website URL
Website Description (Minimum 100 words)
Email ID
Site Author Name
RSS Feed
Now, save these details. You will need these details to add your blog in directory submission sites. Now search for High PR directory free directory submission sites list. You will get a list of many sites where you can submit your blog. Whenever you will open any link, you have to submit these details over there and submit your blog/website.
If you will have details in advance then you don't need to enter your details manually again and again. You can just copy the detail from notepad and paste into the fields. In this way, you can submit your blog to various directory submission sites.




Check Out:
Final words
I hope you get an idea about directory submission and how you can do it. Directory submission is one of the best ways to get quality backlinks and improve SEO of your site. Also, it helps you to boost traffic of your site. So, go ahead and submit your blog in directory submission sites.
If you like this post, Subscribe to my blog "SEORamanArora" to get daily updates. Also, share this post with your friends. Moreover, you can keep in touch me on Facebook, Tumblr, twitter, Instagram Linkedin, Google+ and my  Youtube Channel.
Do you have a query?
Leave a comment below.