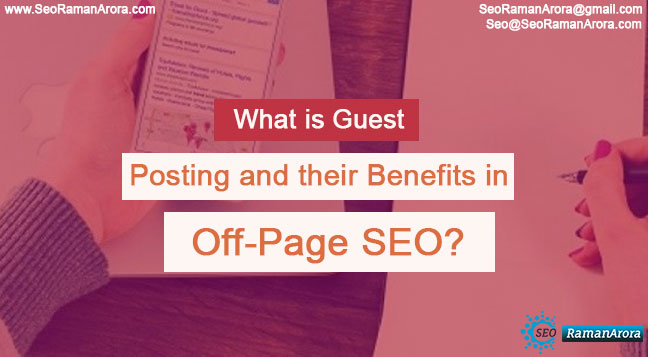 What is Guest Posting and their Benefits in Off-Page SEO?

As the name suggests, guest post or guest posting is where write an article and post it on someone else' blog or website with their author bio. In another word, it is a practice which is used by blogger to enhance blog traffic. Apart from this, it helps to build brand awareness with the help of different types of potential audience. We can say that guest post works in two different ways:
You write an article to post another blogger's blog
Another blogger write an article to post on your blog
In this digital world, there are lots of free guest posting sites where you can post your articles for free.
Through guest blogging, you can establish an authority of yourself within your brand market as well as build a professional relationship with other experts and blogger with your field.
Feature guest post will help to expose your potential audience into a new perspective and even unique content.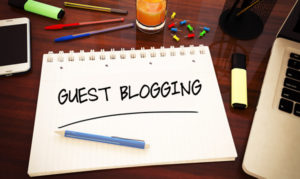 Your goals with guest post should be one of the following-
Create your blog for a complete audience
Make yourself like a 'though leader' in your field
Build relationship with other professional bloggers
Before starting a guest post, you should clear regarding what you are looking to get best guest blogging experience. More so, it will assist to find out a business that you may be interested and also help to get an idea of guest bloggers that you can invite.
Research is a precious part of guest posting. Therefore, you have to focus on what is in your mind, find writers and bloggers within your band and field. Furthermore, make sure your writers from respected business or professional background. Guest post is the best method but it can easily convert into a domino effect when your content doesn't relevant with your business and personas. Now we will talk about benefits of guest post in Off-Page SEO. But, if you don't aware about off-page SEO, must read this article.
Guest Posting and their Benefits in Off-Page SEO
Through guest posting on that website which is related to your niche, you can increase the level of keyword ranking via high-quality backlinks. There are some other benefits of guest posting.
How Guest posting is important for Your Business?
By doing guest posting you can improve your network because it let you introduce new audience. The blogs you write for promotions they will help to drive traffic back to your website.
Guest Posting Builds Your Authority: It will also help you to increase authority because it shows that you are keen writers for others.
Guest Posting Meet You New Traffic: Every time your guest post will get a link juice back to your website.
Guest Posting Make You As An Expert: If you post your different types of blogs on various websites then you can show your expertise to the audience.
Guest Posting Gives You Bluster Rights: For staring guest post
Choose similar keywords or niche
Good traffic websites
Page Rank Website
At the end, the best benefit of guest posting is user readability. You posted a blog as the guest post will be spread between different blogs where you can get some traffic and backlinks to your website. Hope it will work!
Now, You can start Guest Posting on our Blog. You have to follow some guidelines to become contributor account. Join SeoRamanArora
Related Articles:
Subscribe to my blog "SEORamanArora" to get daily updates. Also, share this post with your friends. Moreover, you can keep in touch me on Facebook, Tumblr, twitter, Instagram, Linkedin, Google+ and my  Youtube Channel.