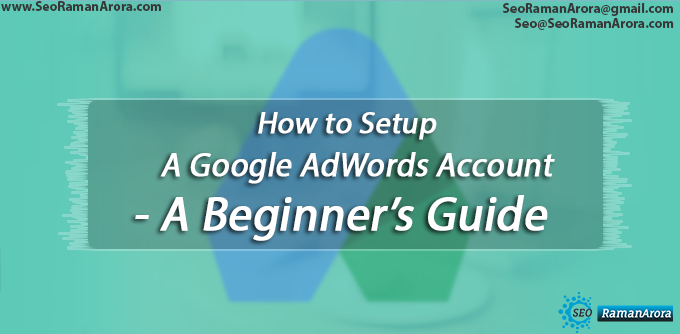 How to Setup A Google AdWords Account – A Beginner's Guide

Are you a newbie to Google AdWords? If you are a newbie and looking for a guide to Setup a Google AdWords Account then this article is for you. Today I will provide an easy guide for beginner's to Setup a Google AdWords Account.
What is Google AdWords?
Google AdWords is an online advertising service of Google. Additionally, Google AdWords is a tool for keywords research. Whether you are running a blog or website, you can research keywords for your post with the help of this tool. Moreover, Google AdWords is the best way to improve the traffic of a site and promote the business online.
Are you thinking how Google AdWords improves the site traffic?
Google AdWords use to serve your site ads to visitors in search engine results. Additionally, it displays your site advertisements on related websites according to the focus keywords of your site. Further, these keywords help to boost a site traffic. To do so,  you need to Setup a Google AdWords Account.
If someone searches keywords related to your blog or website then your site ad will be displayed in the search engine results pages. It is very beneficial for improving your blog's traffic. However, it will happen only when you will Set a Google AdWords Account and connect your AdWords account to your website.
Read & Learn:
Today's post is about "How to Setup A Google AdWords Account" for beginners.
Are you ready to Setup A Google AdWords Account?
Yes? Great! Let's start.
How to Setup A Google AdWords Account
There are some steps which need to be followed to set up an account on Google AdWords.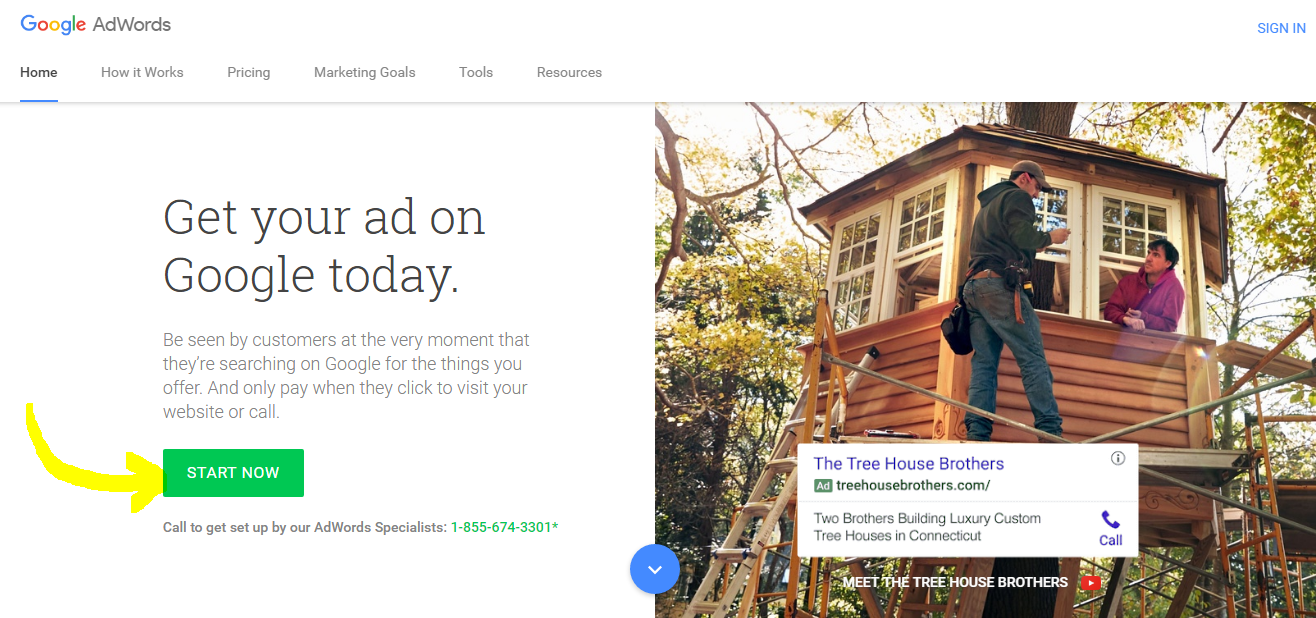 Click on the button 'START NOW'.
Now, If you are not signed into your Gmail account then sign- into you Gmail account.
On next, You will see a form 'Welcome to Google AdWords'.
(See Image Below)
Again, You will see another form on the next screen 'Hello, and Welcome to Google AdWords'.
Here, Enter the following information:
Set Your Daily Budget
Enter the amount which you want to set for daily ads.
Locations
Select your country where you want to target your audience.
Networks
In this section, which type of Ads, you want to display for Ad. If you want to read about different type of Ad Campaigns in AdWords, you can search on Web for similar article.
Keywords
Go to Keyword Planner if you want to post your ad according to the Keywords. Various Keywords Provider are available which help you to run best ad in your Campaigns.
5. Write an ad
Create Your ad with help of keywords, Set title and Keywords for next Step.
In Next Step, fill all the details of Payment.
Payment Information
Billing Country: Set Your Billing Country
Time Zone: Set Your Time Zone
Introductory offer: Fill Coupon Code, if you have any.
Account Type: Set your Account as Individual or Business.
Tax Information: Fill your tax Information according to Individual or Business.
Name and Address: Fill your All Personal and Address Details Correctly. If you will fill all the details correct you can track your audience easily.
Primary Contact: Enter the name of Person and Contact Number of Person.
How You Pay:  Select the one option Automatic or Manual payment.
"You pay for this service only after you accrue costs, via an automatic charge when you reach your billing threshold or 30 days after your last automatic payment, whichever comes first"
10. Payment Mode: Enter the details of your Credit or Debit Card and Add amount in your Adwords Account to run an Ad.
11. Agree to Terms and Conditions of Google Adwords. (If your Ad will follow all the guidelines of Adwords, then it will display on Searches same like as given below)
Important Note: Google Adwords will not Approve any Ads for pornography or Medical related Sites, So, Don't try with these type of Ads with Google Adwords.
Now, Click on the button 'Finish and Create'.
Lastly, Congratulations!
You have successfully Setup A Google AdWords Account.
Go ahead and start your first ad campaign!
Wrap-Up
I hope you find this guide helpful. I am sure you can successfully Setup A Google AdWords Account if you follow this guide. In my next article, I will tell you How to Create first ad Campaign in Google AdWords'. You can  Besides, you can use keyword planner to research keywords with your AdWords account.
Related Article:
Do you have any query?
Leave a comment below.
Also, don't forget to share this post on Facebook, twitter, Instagram, LinkedIn, Tumblr and Google+.