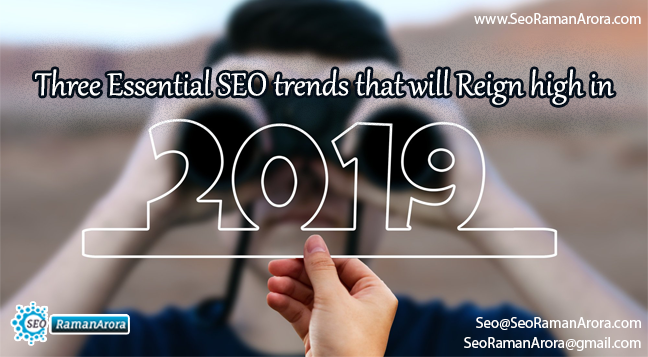 Three Essential SEO trends that will Reign high in 2019

SEO is a vast subject. No one can master it by learning it like a quick fix. In fact, it's not a quick fix. Instead, a way of online marketing that enables business websites to get their due share of visibility to start with. And as companies are constant with their SEO initiatives, they can enjoy other benefits as well. These include a growing revenue stream, increased brand awareness, high search engine ranks, more organic traffic and the like. No wonder today most brands have considered SEO as an integral part of their online marketing plan.
SEO is always changing
You need to know something essential about SEO. It's never the same. The simple reason for this is the sudden Google updates. Google's algorithms are always changing and updating. To keep to this change, SEO too is a constant state of flux. Hence, companies and SEO professionals need to work out a smart way to sync in their marketing strategies with the SEO changes.
Most often this can't be done all by a company or a start-up venture. Expert guidance and help are needed. It is here that the services of an expert SEO agency come to use. Since SEO is always changing, there's a change in the SEO trends as well. Trends that were important a year back might become redundant now. Similarly, trends that started remotely last year might have gained prominent. Let's have a look at the trends that are essential for 2019, for both small, start-up and established businesses.
You can't deny the importance of voice search
Last year that is 2018 saw voice search trying to make its place in the SEO and online universe. In 2019, voice search is promising. It is bound to increase in the years to come. Today, the advanced voice search tools available, such as Amazon Echo and Google Home, enables users to get involved with the content in a unique way. Also, Smartphone devices are getting better and smarter. People make use of voice search from their Smartphone devices as well.
Hence, it is essential to ensure that your content gets optimized for multiple platforms. When you optimize your content especially for voice search, you need to know how the content sound when spoken aloud does. Is the content crisp? Is it objective and to the point? Is it confusing or self-explanatory? Is it in a conversational tone that most users would connect to? If yes, then you have fulfilled the required criteria. Hence, it is important to tweak your content till the time you get convinced it will sound perfect when optimized for voice search.
Also, today voice search is gaining prominence amongst a massive spectrum of audience. Previously, people used voice search when they used to drive or were caught up in a movement. Today, voice search is becoming a way of the online search method. The ease and simplicity are encouraging many people to resort to voice search even when they can type out a query.
Content is still the king
Perhaps, this is going to be an evergreen rule or SEO trend that will always stay. After all, your website or social media posts gain essential based on your content. Hence, the need to produce good quality content that is rich in data, well written, informative, entertaining and plagiarism free is essential. It is correct for your web content, blog, product description, press releases, whitepaper, documents, SEO articles and the like.
Some brands don't have a website. These are mostly start-up companies that want to start with a Facebook or Instagram page initially. That doesn't discard them from churning out quality content. Today, people follow social media posts more carefully than website content or any other online content. Your social media posts will reflect on your brand. Hence, you shouldn't take that lightly. Instead, experiment with interesting post ideas.
You can divide your posts as informative, light-hearted, picture posts, short, crisp content and the like. This way you can provide your existing and potential audience with a variety of content mix. It will keep them engaged and involved. And gradually, when you have established a niche, you can launch your website.
There's a distinct shift to topics from clusters
With changing SEO patterns today, we have stepped into the SEO era of topic clusters. The focus from keywords has shifted to topics. Today, Google is also getting smart regarding snippets. It is gradually learning the way it can address matters related to users' questions. And these questions revolve around relevant topics instead of a few generic keywords. And this trend points towards excellent and intelligent search outcomes. Hence, online marketers need to give importance to informative content that is relevant and addresses all the questions and pain points of the customer constructively. Today, keyword-heavy content is a thing of the past. The online audience is attracted to content that provides an interesting perspective about a topic.
Furthermore, the online audience no longer gives importance to one or two keywords. They want the search engines to answer their questions. And if web content hasn't been able to quench their query, with its content, people would search for answers again. The modern-day online user is conscious and cyber-savvy. They love to absorb information and read extensively. Hence, content that adds a bunch of relevant keywords will not fetch brownie points until it addresses a pertinent topic.
Hence, web, blog or any other SEO content which is well equipped to answer a set of questions will perform better.  So, when you are making an SEO plan, don't spend much time targeting isolated keywords. Instead, spend time in researching on topic clusters. Also, establish a topic cluster model that will enable you to develop your content compactly and cohesively. You will find your audience getting attracted to this content form more.
Related Articles:
Several other SEO trends are here to gain prominence in 2019. The three mentioned above are the most important ones. It helps to make your content more fluid and user-friendly. Take note of these trends when you are framing your SEO plan for 2019.