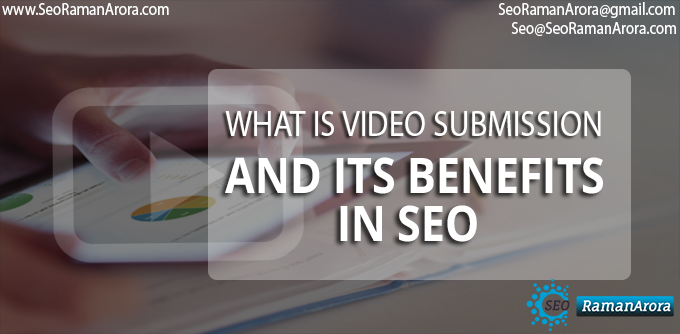 What is Video Submission and Its Benefits in SEO

Every Blogger and website owner wants a high ranking of their site in organic search result. However, SEO is a most popular way to increase page ranking and site traffic. But have you ever tried to increase your Google Page Rank with Video Submission? Although, there are many techniques of SEO, but Video Submission one of is most effective way to increase Google Page Rank in SERP.
Video has now become the most popular form of media on the web. If a picture is worth thousand words, a video is worth a thousand pictures. The popularity of the video has been increasing day by day. Video has already taken 64 percent of the internet traffic.
Because of the rapid growth of videos, most of the advertiser starts promoting their brand using videos. This gives a huge rise in the video advertising.
Video Advertising is an interactive way to engage the audience to a site. Most of the advertiser agrees that video advertising returns the best results.
Do you want to build your brand awareness?
Video Submission sites are the best way to build brand awareness and get quality backlinks. As I mentioned above, a video helps to drive lots of traffic to a website. Besides, video submission has gained so much popularity because it helps to increase page ranking in SERP.
Before moving further, let's know what is "video submission".
What is Video Submission?
Video Submission is a process of submitting your videos in video submission sites to get quality backlinks. Also, Video submission sites are very effective in increasing brand awareness as well as promoting a brand.
However, there are many popular video sites like YouTube, DailyMotion, Flickr and much more. YouTube has considered as the second most popular search engine on the internet. Most of the people mostly search on YouTube wither they want to learn something or want to purchase a product or something else. Also, People like video promotion than any other advertising media.
As we all know, video sites are one of the fastest growing social media platforms. Google has taken social media platform very seriously in Google SERP'S algorithm. Also, Google increases the ranking of a site if it gets effective and quality backlinks. So, if you want to get quality backlinks for your site, you can make a short video of your product or services.
A successful video is which influence your audience to buy your services or products. Also, if you don't want to lose your viewers' attention, try to make a video of a 4-5 minute. A longer video can lose people attention at any time. So, make the sure duration of the video do not exceed more than 5 minutes.
One you create the video; upload that on High PR Video Submission Sites. This will help you to improve bounce rate as well as average time on your site. Moreover, the videos you upload them on High PR Video Submission sites get more visibility in SERP. Also, Google gives more ranking to those websites which add video to their content and share their videos on High PR Video Submission sites.
Similar Articles:
Let's discuss some of the benefits of Video Submission in SEO.
Benefits of Video Submission:
Video Submission sites help to increase your brand popularity on the web.
Helps to increase your revenue if someone like your videos.
If you upload your video on popular video submission site and someone like the video, then there is the high probability that person will visit your site. Hence, it will boost your site traffic.
Provide you valuable inbound links.
Improves your position in the field of video marketing.
You can edit your video anytime. Also, you can convert your content or images in video and upload them on video submission site to gain popularity.
Generate leads for your site.
Offers you a great exposure to communicate to your audience through videos.
Video Submission Sites gives you a great platform to share your video worldwide.
Provides high-quality backlinks for your site
Improve page ranking in search engine results.
Increases click rates.
Related Article:
Final Words
Video Submission is the best way to improve your website presence on the web and to drive a massive amount traffic on your site. So, don't waste your time and submit your video on High PR Video Submission Sites. I hope you find this article helpful. If you have any query, feel free to ask in the comments.
Do you like this article?
Subscribe to my blog "SEORamanArora" to get daily updates. Also, share this post with your friends. Moreover, you can keep in touch me on Facebook, Tumblr, twitter, Instagram Linkedin, Google+ and my  Youtube Channel.
For More Updates Download our Android App