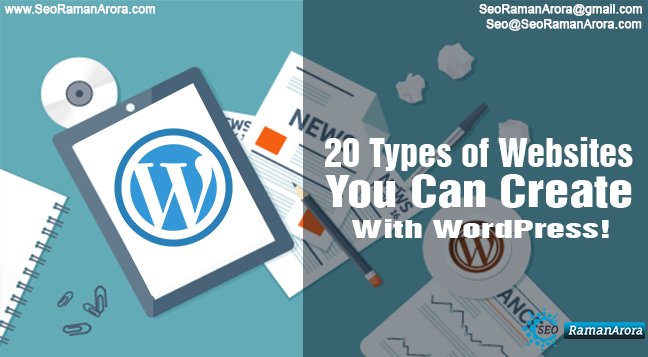 20 Types of Websites You Can Create With WordPress!

Do you wish to start blogging through different kinds of websites? Or, just looking for those types of websites that make money? Whatever you are aiming for, WordPress is just the right platform to kick-start your dreams of building a website which you want to be elegant arted with WordPress is as simple as counting 1, 2 and 3. All you need is a domain name and a reliable web hosting. With numerous free plugins, you can transform your simple blog into a professional website with a little technical knowledge.

Wondering what could you make out of WordPress? Well, there is a gamut of options including blogs, business websites, eCommerce platforms, photography websites and so on. Opportunities to earn with WordPress are endless. Just focus on developing professional types of website design which can easily attract, retain and convert customers. Let's explore the kind of websites that you can develop with WordPress!
Unarguably, WordPress is the topmost choice for bloggers. With powerful tools to manage WordPress blogs, you will have every opportunity to grow your blog to the level you desire. Ideal for making blogs and different kinds of websites based on your favored niche!. A Beginner theme of theme-Junkie is attractive WordPress theme to create a blog site.
Nowadays, many business websites use WordPress platform to build their business websites as it is easy to use and quick to get started. Even the big brands vouch for WP due to its growing popularity and ease of use!. Various themes are available to create a Business website, Massive Responsive multi-purpose theme, and Consulting – Business, Finance WordPress Theme is best option to create a website. As well as, you can prefer many other WordPress Business website for innovative design.
Getting started as a job board like Problogger is one of a few good options to supplement your income. You may start as a niche job board targeting a specific industry and charge a reasonable amount of money for every posting on your platform. As your popularity grows so will your fees for posting – making you earn more over time. Collect the ideas by browsing various job boards and pick the one out of several types of website designs that is catching your eyeballs for creating the competitive job board.
If you are aspiring to develop those types of websites that make money, then starting as an eCommerce platform built on WordPress would help you achieve the best of both worlds. Awesome plugins like WooCommerce and WP e-Commerce are always there to help your website turn into a fully functional eCommerce portal. There is List of WordPress theme are available. Click here to check
How about developing a Q&A website similar to Quora? Well, the idea is worth putting efforts. WordPress helps you develop the best thriving online community by using tools available online for free. Who knows if your question and answer website gets viral soon? It is just a matter of efforts and choosing the right platform for it!. As per my Experience with WordPress, I will recommend two WordPress theme, Namely QAEngine – Question and Answer WordPress Theme
If you run an NGO, then it is not worth missing WordPress which is free to use and can be easy on your pocket. This is why it is counted as a right solution for non-profit organizations to get started. Supported by various free plugins, tools and marvelous themes, it is easy to accept donations online. Charity: Nonprofit/NGO/Fundraising WordPress Theme is one of the Popular WordPress Theme for NGO and non-profit organizations.
The demand for business directories is growing similarly to job boards. The best part is that you will have access to free WordPress business directory plugins that help you develop a highly attractive business directory. Breaking the ice, you may even go for web directories. DirectoryEngine WordPress Directory Theme is best wordpress theme.
Using a lightweight bbPress coupled with WordPress, you can build a great online forum that connects many people on the forum. You can boost the impact by adding powerful social media features to it by making use of BuddyPress.
The idea of building a coupon website fits to those who want to earn affiliate income. WordPress supports every function of coupon websites like adding coupons, removing expired coupons, rate coupons and even allows user voting. It's one of those types of websites that make money and you probably don't want to miss such a great earning source.
Are you a skilled artist looking to showcase your work? Unleash the power of WordPress that can help you create stunning image galleries to attract your potential clients. With sleek designs, your potential employers would find it easy to browse through your online portfolio.
Looking to promote your product/services in several countries with different languages? Choosing WordPress as a platform gives you the leverage to build a multilingual website. It's pretty simple by using plugins.
Want to generate profits by developing auction websites like eBay? Let WordPress give wings to your dreams. The WP platform makes it easy to bid, make payments and manage auctions professionally. Starting an auction website on a niche industry of your choice on WP does make a sense!
Responsive Auction Theme is Wonderful theme
If you are fascinated with knowledge base websites similar to Wiki, then let WP help you build a great knowledgebase website that supports Wiki like articles. You can also add a documentation section to your site using Plugins!
Building a niche affiliate website that helps you earn commissions from affiliate marketing is possible with WP. You will never fall short of appropriate plugins and tools to keep running your affiliate website at an ease.
For professional photographers, WordPress offers a great platform to share their expertise. It's possible to create an astonishingly beautiful WP website that helps users browse through your recently captured events, shows, landscapes and so on. The professionally built photography templates help you manage everything from creating albums to writing captions!
Creating an outstanding podcasting website and WP is a perfect combination which helps achieve the most out of podcast platform that comes with a built-in RSS platform. It's the most favored platform for bloggers to build a podcast platform!
Are you an intensive traveler who believes in sharing their travel experiences through his private blog? Choose WordPress for your private blog as it helps you create powerful blogs with a minimal management. Who knows if you can gain a large number of followers over time? Just put in your best efforts!
Create family blogs and websites using WordPress that has everything to grow your blog. Get benefited with built-in, easy to use media and user management system. Add family photos, share your memories through posts and much more.
Have you come across a professional school/university website so far? Probably you have already because most of the world's famous universities and colleges are using WP as their platform. It's easy to receive fees online with the payment module integration.
There are various themes available, But one of my Favorite Writeup WordPress theme.
Starting an online news website is a venture that you would love to start. You need not worry about responsive themes as there are hundreds of them for free on WordPress. You may go for a magazine style theme or news style, whichever lucrative you the most. Don't forget to check "Largo" which is a responsive WordPress framework to develop engaging websites.
Conclusion
From here, you can conclude that the options to create something meaningful out of WordPress are endless. It's such a powerful platform for creating different kinds of websites that have turned many business ideas into reality. In synergy with your brainstorming ideas, WP will let the world of opportunities open to you. Let's cash out the powerful types of website design available in WP to unleash its potential to the optimum!
Related Articles:
Don't forget to share this post on social media. You can also follow me on  Facebook, twitter, Instagram, LinkedIn, and subscribe to YouTube Channel.