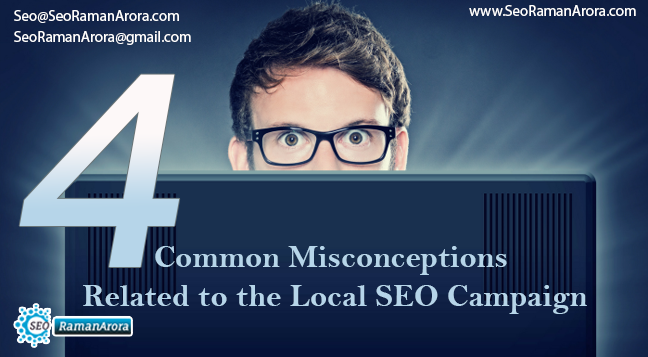 4 Common Misconceptions Related to the Local SEO Campaign

The world of SEO has always been surrounded by various misconceptions and myths, and the latest victim is the local SEO. Major search engines like Google do not advertise the requirements of their algorithm functionality or search criteria, leading to uncertainty while trying to find out the exact factors to rank better. All it takes is a series of ethical measures applied by a team of SEO professionals on a site to make it rank well on SERPs.

In case you are thinking of strengthening your local SEO, have a look at these common misconceptions linked with the strategy:
Fuses the Same Criteria as National SEO
To some extent, this is true for the user; however, local SEO usually operates with a different search algorithm instead of the same foundation of national SEO. According to forbes.com, while making a web search, if a user includes a city or region, or if location detail is active, a local "three-pack" emerges at the top of the result page. These three top spots are desired, as they receive a huge amount of traffic and online visibility, but you cannot expect them to achieve with the national or global SEO campaign and some additional keywords.
 Local SEO Is Designed Only for Small Firms
Perhaps this is one of the biggest misconceptions that prevail in the market whenever someone mentions 'local SEO'. The idea of local SEO is that it only works for small business websites. It does not matter whether you own an exclusive business or a small one – local SEO is an effective strategy for any business even it operates on a national or global level. With an extra effort by your SEO team, you can easily optimize your site for local SEO and get a new extension of web visibility.
Local Reviews Are Everything
Local reviews are critical, but they are not the only thing that decides the success of an SEO campaign. Google scans the quality, quantity, and text of the local reviews inscribed by visitors about your brand, and piles them to form an impression about the authority of your business. A good load of positive reviews can definitely help you, while poor remarks can bring you down. Although, you focus should not be only on reviews or else you will miss out on other important local SEO strategies like link building, content, citation building, etc. that can help your site gain the top three spot. For further assistance regarding your site's local SEO, you can consult at Tayloright.
Social media Is Baseless for Local SEO
Social media cannot directly help local SEO, but this does not imply that it is completely of no use. Being highly active on social networking sites can offer third-party directory sites with a surplus amount of details along with generating more user reviews.
Related Articles:
Concluding Thoughts
Finally, it goes without saying that local SEO can be really effective for your online business and should be taken seriously. Begin your local SEO campaign by clearing the aforementioned misconceptions and achieve success in your online marketing campaign.