Why Keyword Research is the Most Crucial Part of Digital Marketing

With the internet becoming a crucial part of our lives, digital marketing has gained a lot of prominence. The first step to create a successful digital marketing campaign is via keyword research. It is the foundational block of any digital marketing strategy and should be the first priority of any digital marketing company. Relevant keywords are the ones that help you get leads conversions and generate sales, and better your ROI.

If you are new to the world of digital marketing, you will hear that keyword research is crucial and that it should be the first step of entry into this domain. If you're wondering why people focus on it so much, there are obvious reasons for it. 

Every time you search for something on the internet, you're using some form of a keyword or the other. Keywords can be a great way to enhance your brand recognition at this level. But one needs to dive deeper into keyword research to understand what it can indeed do.  if you need to know more about Keywords, must read this article Role of Keywords in SEO and Their Types
What is a Keyword Search?
To simplify, keyword search is just the words that different users on the internet looking for some specific information use to search on the internet. For example, if I am looking for 'granite table tops for kitchen", this will be the exact keyword I will use to search on the internet. There are mainly two types of keywords: Long-tailed Keywords and Short-Tailed Keywords.
Importance of Short Tailed Keywords:
These are short one-word keywords that are less specific and cover a broader range. When they are confused and are deciding something, they tend to use these keywords. These are not the best keywords for conversions but are required if you want to rank high on the search engines and generate traffic for your website.
When you do keyword research and decide to use a short-tailed keyword, analyzing the search volume and competition is crucial. The shorter keywords you use, the greater will be the search volume for it.
This means that if you're able to optimize your website or blog using these keywords, you will drive a lot of traffic to your site. Yet, most people will try to rank using short-tailed keywords and hence the competition is a lot.
Importance of Long-tailed Keywords:
Ideally, we understand that long-tailed keywords are not the ones that drive in leads. As these are longer search sentences and tend to be more descriptive, it actually causes the most conversion rates. But think of it this way.
In a broad sense, a person looking for shoes might not likely "buy shoes" from your store, but a person looking for "running shoes for men" might buy what you have to offer. This is because the two types of audience belong to different levels in the conversion funnel and the latter ones are easily conversable.
Long-tailed keywords also help guide the search engines, and when you do proper keyword research and use it for blogs, it can blow it up and determine your ranking on Google. If you are targeting long keywords beyond four words, it might not work the best for PPC.
But, it will be a boon for your content and SEO to change your leads to direct conversions.
Why is Keyword Research so Important?
Keyword research is the procedure of trying to find keywords fit for your business that speaks for your brand. Keyword research also helps you to decide how you are ranking on the search engines and how you could utilize particular keywords to enhance your ranking.
There can be varied reasons why one of the main aspects of your digital marketing campaign that should be at the forefront is keyword research. These are some of the reasons why keyword research is the most crucial part of your digital marketing strategy:
Keyword research

is crucial as it helps you understand your brand and business better. You will understand to specifically talk about what your brand is about, what it is selling, what are the services you offer, how it can benefit your customers. If you are still not crystal clear about these, then identifying the keywords for your niche can help you fully define who you are and what you do.
Keyword research can give you all the crucial information like where you rank for keywords, which keywords will help you rank better, which keywords your competitors have leveraged, keywords that are easy for ranking and the like.
Keyword research can tell you what people are searching for rather than what you think they are searching for. Search engines can only rank your website if they know what your business is. Targeting keywords on different pages of your website means Google can then rank you for those keywords.
Identifying keywords to use for your blog, content, and outreach can help to drive traffic to your blogs or website. After detailed

keyword research,

execution of high volume keywords in your content, you can engage with your narrowed and focused target audience by providing them with the information they are looking for at the correct time, in a manner aligned with their place in the marketing funnel.
Keyword research can also help you stay afloat in the competitive market. You can discover your competitors' keyword strategies and see what helps them rank and understand why your ranking might be faltering. This can help you find opportunities to use a different approach by trying newer alternative keywords that you might not have thought about.
Related Articles:
Keyword research is always an ongoing process from where you start your campaigns. Only after you have done this research can you combine various other SEO and digital marketing strategies together using the keywords to rank higher in search engines and generate more traffic.
The importance of keyword research is that a digital marketing campaign will always remain incomplete without it. Whether you focus on organic marketing through SEO and social media marketing or go for Paid marketing, you will have to leverage keywords to reach your target customers.
Premium Keywords Research Tool:
If you are looking for Premium Keywords Research tool for better audience track and Search results, SEMRush is an advanced tool that is capable to beat your competitors in every regard. You can not only find your competitors keywords but also their backlinks, estimated traffic etc. You can also perform your site's audit and fix issues of your website.
Overall, SEMRush is a great tool that is suitable for all kind of bloggers and marketers to grow their sales and increase the traffic. This is highly recommend keyword research tool, you must use it.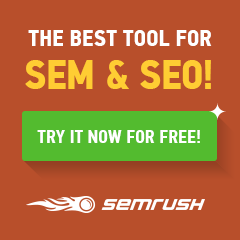 It works.
0% Success
It doesn't!