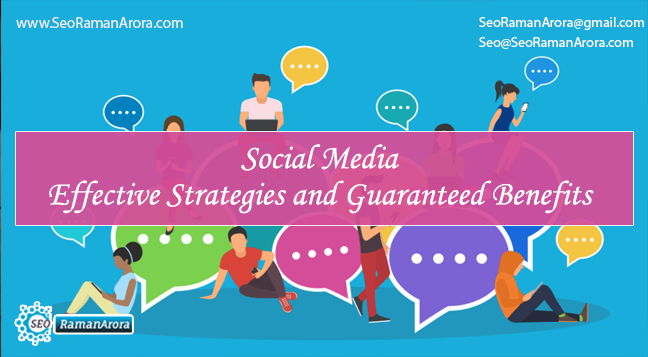 Social Media – Effective Strategies and Guaranteed Benefits

Following explosion in the use of social media the world over, the social media websites today have turned into a vital platform for businesses through which they can engage with candidates, employees, prospects, and customers. In case of interacting with customers, companies are utilizing social media platforms for engaging with current and potential customers, reinforcing brand messaging, influencing customer opinions, providing targeted offers as well as service to customers efficiently.

During hiring the companies are taking the help of this platform for reaching out and engaging with potential workers in an engaging and targeted manner. At the time of employee engagement, the organizations are using internal social media tools for driving higher employee engagement, productivity, and collaboration. At the time of product development or launch, organizations are utilizing the merge of external and internal social media tools in case of the following- generation of an idea, idea evaluation, and quick new product launch.
  4 Vital Social Media Strategies
Social media has fast turned into a crucial facet of digital marketing that offers incredible perks which are helping businesses to reach countless customers across the world. Remember if you have not yet applied for this valuable source then you are missing an excellent marketing opportunity. Social media will make it simpler in spreading the word concerning your product and also a mission. Because companies emphasize leveraging social media platforms effectively, there are some critical factors that you need to consider. Take a look at the 4 best strategies which can help you to attain superior results,
Comprehensive Strategy- Though Facebook and Twitter among others are the most widely used social media channels; a comprehensive social media strategy must include extra social media channels. Here the candidates, employees, prospects, and customers will talk about the company. Below are some examples,
Hiring and business networking platforms like LinkedIn
Platforms that are industry-specific such as automotive message boards, travel forums
Specialty multimedia sharing websites like Pinterest and YouTube
Country-specific platforms like Renren.com
To know which platform of social media to use as a part of the social media strategy, an organization must track top platforms systematically where there will be a discussion on the organization and its brands will be discussed.
Two-way Communication- Companies that use social media merely for disseminating information to customers, in fact, may not view high returns from the use of social media. On the other hand, companies that use social media channels like the medium of two-way communication to have a higher successful approach to social media. There are a couple of tactics which you can utilize for establishing two-way communication such as,
Post surveys and questions associated with the company and also the usual topics of interest
Get customers, candidates, prospects, and employees to share experiences and queries related to the organization and its products and also themes associated with the business. It can also extend to sharing videos and photos.
Create dedicated customer service tabs, pages or handles and candidate query pages along with a guarantee of high responsiveness.
To do this, it needs a continuous focus to generate fresh content and new ideas for social media and also the ability to post responses and content in a streamlined and efficient way.
Control of Content- There are some organizations which tend to outsource the management of social media to the advertising partners. During such circumstances, the company must ensure to retain control and complete editorial rights submitted on their behalf. An organization can do this by using the escalation process and automated approval workflows amid internal teams and partners. To know more about social media strategies, contact BlackGrid SEO Company.
Measure Performance- For any company it is critical to embark on a social media initiative for setting targets, measuring performance against targets as well as comparing the performance against competitors. Whatever is measured will get improved. Take a look at the chief performance indicators that need tracking
Sharing social media conversations either for the brand/company vis-à-vis the competitors
Negative and positive sentiment either for the brand/company vis-à-vis competitors
Monthly increase when it comes to social media followers.
The average time required for responding to comments via social media users through comment/feedback.
The number of resumes that come through social media as well as the amount finalized.
Benefits Galore
All said about the strategies now let's take a look at the different benefits of incorporating the best social media strategies,
Overall- Increased brand share and increased followership on the various social media sites in relation to competitors.
Improvements in Sales- The sales leads created from social media channels and increased lead conversions by engaging with prospects actively. Also giving targeted offers through social media as well as driving better brand advocacy via offering for satisfied customers an open platform for voicing their opinions.
Improvements in Customer Service- Decrease in time to respond to clients and better customer satisfaction.
Improvements in Efficiency- A significant number of candidates, prospects, and customers reached at a minimal cost as opposed to traditional communication media/advertising, faster execution of marketing campaigns and more rapid hiring possibility.
Healthy Customer Satisfaction- The platform of social media plays a crucial part in the communication and networking. Through these platforms making a voice for the company is essential to augment the brand image in its entirety. The customers will find the fact that the moment they post comments; they will get a customized reply instead of an electronic message. Remember a brand which values its clients, will invest ample time in composing a personal note that is perceived in the positive light.
Higher Traffic-Last but not least, social media will help to boost up website traffic. When contents are shared on social media automatically, you are providing users with the reason of clicking through the site. The higher quality content you will share on the social account the higher inbound traffic you can generate at the time of making conversion opportunities.
Related Articles:
Social media strategies which incorporate the points mentioned above can lead to significant perks for companies from social media usage.