A Beginner's Guide – What is Domain Authority?

Hello Guys ! Today I came with a new topic "Domain Authority". If you are a novice blogger then you need to have some knowledge about Domain Authority, its Importance and how you can check it. I will provide you "A Complete Beginner's Guide about "What is Domain Authority" in this article.

For every bloggers, it very important to have a high page rank in Search Engine Results so they can have good traffic on their website or blog. However, there are many techniques in SEO for increasing page rank and website traffic. Also, if you will follow white hat SEO techniques then there are high chances to get good page rank in organic search result. But one other term metric which is very useful to boost page rank and traffic is called as Domain Authority.
What is Domain Authority?
Domain Authority also known as DA is a ranking method which is developed by MOZ Company which is quite famous for offering Google Analytics and SEO tools. The main objective of creating Domain Authority is to assign ranking to all the blogs and websites on internet.  However, it assigns the DA in between 1-100 where low DA means, the website has low page rank. Below is an example of amazon, where you can see the some factors such as DA: 92, PA= 72 and Spam score = 28%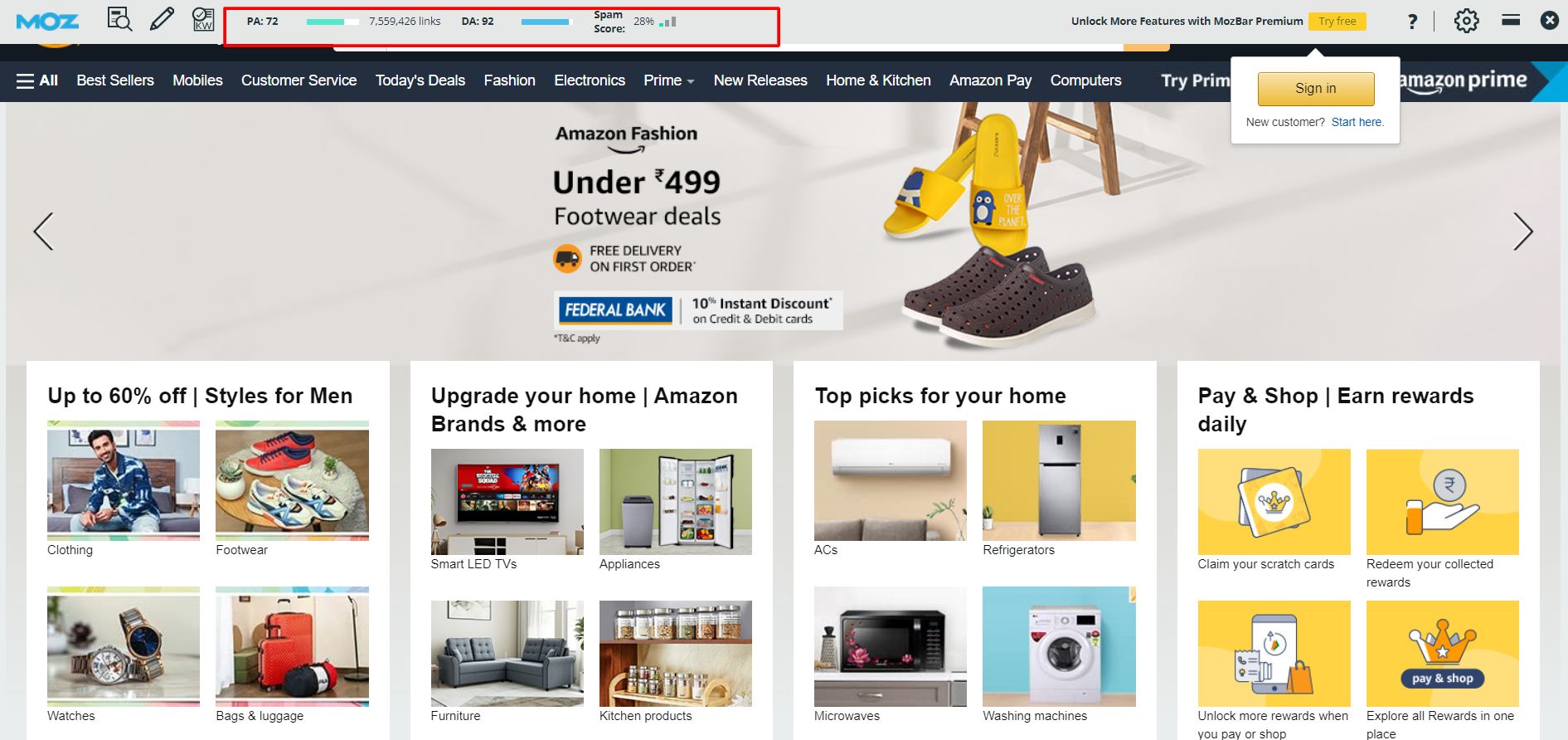 Besides, DA grade is based on many factors such as backlinks, domain age, content quality and many more. High Domain Authority means you have good page rank and hence you will get more website traffic and popularity.
However, if you have a website or blog then your site DA will in between 5-10 initially but with the time and quality backlinks, you will get high DA and page rank as well. The old and popular website usually has high Domain Authority in between 90-100.
So, now you know that high Domain Authority is very important to get high page ranking in SERP( Search Engine Page Results).
Let's move further. 
How to Check Domain Authority of a Website?
Domain Authority of website never remains constant. It usually varies with time. Every website has different DA and MOZ assign DA grade to each website based on total 40 factors including domain age, number of quality backlinks, quality content and many more.
However, there are many tools available over internet to check Domain Authority of a website or blog. You can also go to official website of MOZ and use Open Site Explorer (https://moz.com/researchtools/ose/)  to check DA of your website.
Enter the URL of website for which you want to check Domain Authority and click on the Search button. Then it will display you DA and some other metrics such as PA (Page Authority) and Page Link Metrics.
Do you know you can also increase DA of your website.?
Yes. You can boost DA of your website or blog. I will tell you some ways to do this.
7 Ways to Increase Domain Authority of Blog/Website 
Internal Linking is adding the link of your other related articles in one article. This makes your post more informative. Also, when Search Engine Bot crawl your website and find good interlinking then it increases your website Domain Authority.
However, it's very important to do internal linking very carefully as if it is not done properly then your website will have high bounce rate. That means low ranking and traffic of website.
Important Articles:
Besides, you can interlink related articles in post which already have good page rank in organic results. It increases the chances to bring more visitors on your website.
Guest Posting is a lucrative way to boost Domain Authority of website. If you write quality content and add link of your website in the post then you can get high DA. Also, other things which you need to take care about are: submit guest blog to high quality websites which have high authority, only add links related to your post, and submit guest post in your niche related websites.  Apart from this, you will also get the referral traffic through Guest Posting.
Important Articles:
If you are a blogger then you must know the power of blog commenting in SEO. If there is some article, blog or forum related to your niche then you can comment over there with relevant and fresh information and also add the link of your website or related post in it. Then visitor will more likely to visit your website if they will find your information useful. Hence, it helps to increase your website traffic and so the Domain Authority,
Link Building means creating more backlink for a website. When you write a high quality post then you can mention link of related post of another website which as great quality traffic and high DA then another website will get a backlink from your website when your visitor redirect to that website through your post. Then you will get do follow link which will increase your website ranking. Additionally, the owner of another popular blog to whom you give backlink may also provide you backlink in return if you have fresh and informative content in your post.
Hence, when a visitor search about that particular blog or website then your website will also get in search results and you will get traffic as well. This will help to increase Domain Authority of your website.
Write High Quality Content For Your Post 
High quality content is very important to get High Domain Authority of a website. Whenever you write a post, make sure your content is fresh not copied. It should be attractive and must convey the useful information to visitors so they will visit your website again. Please don't compromise with content quality. It must be unique and relevant. Top 7 Tricks to Write High-Quality Content
Apart from that, use images, videos and gif in your content to make it more attractive and informative. Keep to length of post atleast 800-1000 words. Try to use relevant links in your posts.
However, high quality content can make your post viral and hence drive more traffic to your website. You can get high grade Domain Authority if your blog is popular or you have good traffic on your website.
On-Page SEO optimization is one of important factor on the basic of which Domain Authority is assigned to a website. Therefore, it is crucial for a blogger to do On-Page SEO in right way as it will help to increases website's DA. Must read: Difference between On-Page and Off-Page SEO 2017?
Apart from that, you need to take care of following things while doing On-Page SEO:
Proper Placement of Keyword
Optimize the image used in post.
Use long-tail keywords in your post.
Use focus keyword in post title, meta-title, meta-description.
Try to keep Keyword Density in between 1.5-2.0.
On-Page SEO optimization is one of the best techniques to drive traffic to a blog or website. If you will do on-page SEO in a proper way it automatically increases your rank and authority in SERP.
It is another factor which is used to decide your website's Domain Authority. If you domain is new then you will probably get low DA and may lies in between 5-10. Hence you will get low page rank in organic results.
However, search engine bots high priority to old website which has quality traffic and content. If domain age of your website is high then you will get high DA score.
Besides, you don't need to worry if you have new blog as you just need to have some patience and write high quality post for your blog and post them on specific time. When blog gets old with time, MOZ will automatically increase DA of your blog.
Related Articles:
Sum-Up
I hope this beginner's guide provide you the useful information about Domain Authority. However, it's difficult to get high DA grade but I am sure if you follow above mentioned tips then you will definitely get high grade Domain Authority.
If you have any question or doubt related to Domain Authority then please don't hesitate to ask via comments. Also, if you have more tricks to boost website's DA then please share in the comment section.
Do you like this post?
Subscribe us "SEORamanArora" to get daily updates. Also, share this post with your friends. Moreover, you can keep in touch me on Facebook, twitter, Instagram, Linkedin, and my Youtube Channel.