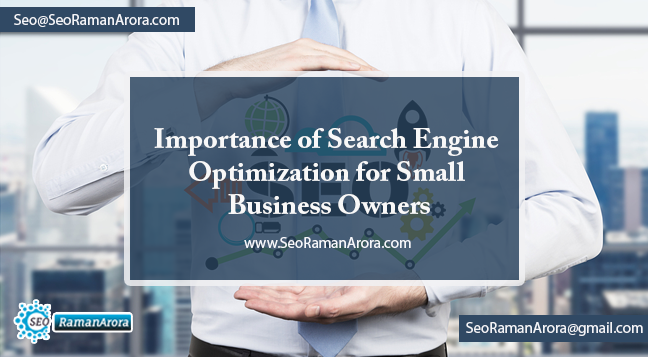 Importance of Search Engine Optimization for Small Business Owners

If you run a small business, then you must know that it is difficult for making a small business succeed. A lot of small businesses will be failing to make any success and will not last even a year while others will find it incredibly difficult even to last five years. Business owners would have to adapt to the latest technologies of the changing times so that they can survive. They know about latest digital marketing techniques and Importance of Search Engine Optimization for Small Business Owners.

One of the most effective methods of surviving in business and ensuring that your small business can get the success it is vital that you should go for search engine optimization of your business website. There are several simple ways of going about doing this for your business. Irrespective of size, every business needs to attract customers.
The difficulties in marketing
Marketing is an extremely difficult procedure, and digital marketing is more complex. Search engine optimization can make your business website perform better in digital marketing. When the SEO is done properly, then there would be more organic traffic to your business website, and you will have more visibility for promoting your business. With more organic listings you will build more trust with your local customers, and it is important to have a strong foundation of mutual trust.
SEO as a marketing technique
SEO is vital for the success of small businesses. As a small business owner, you will need to have the knowledge and the power for making your decisions when you implement SEO tactics. A lot of small business owners are still confused about the nature of SEO. They do not understand if SEO is simple market research or if it is only keyword researches. Search engine optimization is all of these and a lot more. Search engine optimization is incredibly complex and a multi-layered discipline. You will find several different methods of SE. There would be many factors that will influence the optimization process. There are 7 SEO Techniques and Strategies which you need apply for your business.
SEO professionals would be able to easily identify the exact SEO processes which would help you on giving more success to your business. Things like your particular industry, your local geography will be influencing the strengths and weaknesses of your optimization process.
You can consider that the search engine would be like an engine for referral, it is like a tool which would provide the most useful answers to the questions of the users. As a small business owner, it is vital that you should have more success in the search landscape. You must ensure that you can do all that is required for getting the most useful result. You need to be more driven so that you can provide everything which is required for providing your customers with the desire to buy your products. This will help in increasing your conversions more, and you will also get more organic traffic.
As the owner of a small business, it is important that you consider the following areas for a good search engine optimization:
The websites: You have to have a structured, quick, and responsive and mobile friendly business website for your success.
Content needs to be of top quality: You must have content which should reflect the reasons why customers must choose you first.
Marketing your content: You should upload more and more informational type of blog contents because it will help in putting your business website to a much broader audience base.
On page optimization: You must think more about optimized page titles and put in more Meta descriptions. You need to choose perfect title and different meta tags for different web pages.
Local search engine optimization: The local business owners will have to consider all the local optimization practices.
Authority build-up: The links would be highly correlated and should reflect themselves in the SERPs.
Credibility needs to be more: You need to have case studies, reviews, testimonials and even portfolios which will help you to clinch your deal.
It can seem to be a complicated process to indulge in search engine optimization. Thus you need to understand the current situation of your business and the marketplace. This would be crucial to you making proper decisions. Fortunately for the small business owners, you do not have to be involved in too complex procedures, and then the conversion process would improve with just content, web designs and backlinks.
Will search engine optimization be useful for your business?
Search engines will provide you with an easier way for people to find and discover your products. Searches will help you get more visibility on the internet and woo your potential customers. SEO will improve the marketing opportunities for your business. You need to consider the following when you start your optimization process:
Your budget: You perhaps will not have a large budget for being able to compete with larger business houses.
The Speed: Search engine can take some longer periods for delivering results.
Advertisements: Advertisements will occupy larger screen space these days.
Larger competitors:

There are certain search terms which are completely dominated by larger competitors.
Search engine optimization will help in making the small business venture that you run to get more success as your business website will become more visible to users on the internet. With more visibility, you can expect to get more exposure on the internet, and this will boost conversions. More conversions will similarly result in you getting more revenues. It is important to indulge in small-scale SEO processes at least. This will include focusing on better content, more, and optimized web design.You can get more information in greater detail on the internet to learn about effective search engine optimization practices. You can visit digital marketing quotes to learn about SEO processes for small business.
Related Articles:
Conclusion
Search engine optimization is necessary for all types of business owners in this day and age. However, it is more important for small business owners as SEO will bring more exposure to these businesses and help in them develop faster and generating more revenues. Hopefully, the information mentioned in this article will have helped you.